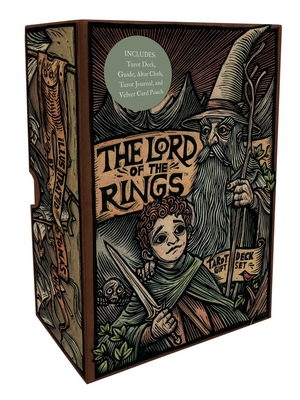 The Lord of the Rings™ Tarot Deck and Guide Gift Set
Publication Date:
September 19th, 2023
Usually Ships in 1 to 5 Days
Description
Let Frodo, Sam, Gandalf, and other beloved inhabitants of Middle-earth guide your tarot practice with this epic tarot deck and gift set, inspired by the iconic The Lord of the Rings™ novels.
Join the Fellowship of the Ring with the only official The Lord of the Rings™ tarot deck gift set! Featuring original artwork inspired by classic tarot iconography, this 78-card deck depicts fan-favorite characters, creatures, and scenes from The Lord of the Rings™ novels, including everyone from heroes like Sam Gamgee and Legolas to sinister antagonists Gollum and Sauron. Comprising both major and minor arcana, the deck also comes with a helpful guide explaining the meaning of each card as well as a few simple spreads for easy readings. Packaged in a collectible gift box, it's the perfect gift for The Lord of the Rings™ fans and tarot enthusiasts alike!
This gift set includes:
• 78-card Tarot Deck
• Guide
• Tarot altar cloth
• Guided notebook for reflection
• Pouch to hold your cards and booklet.
The Lord of the Rings and the characters, events, items and places therein are trademarks of Middle-earth Enterprises LLC, used under license by Insight Editions.