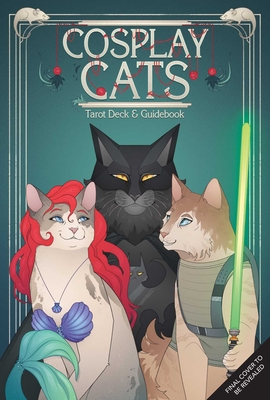 Cosplay Cats Tarot Deck and Guidebook
Publication Date:
October 1st, 2024
Publisher:
Insight Editions
Description
Pop culture fandom and mischievous cats collide once again in this unique tarot deck featuring hilarious illustrations of cats reimagined as iconic pop culture characters.
Featuring deluxe custom artwork of cats as pop culture figures, this deck is a great way to introduce fun into your next tarot reading session. Containing both major and minor arcana, the set also comes with a comprehensive guidebook explaining each card's meaning, as well as simple spreads for easy readings.
Packed in a sturdy, decorative gift box, this compelling tarot deck is perfect for cat lovers, pop culture fans, and tarot enthusiasts alike.
CAT-THEMED TAROT DECK: Enjoy mischievous cats designed as recognizable pop culture figures with this collectible tarot deck and guidebook
ORIGINAL ART: Featuring 78 cards and a 128-page booklet with custom illustrations and never-before-seen artwork
GUIDEBOOK INCLUDED: This unique deck includes a comprehensive guidebook to help tarot practitioners of all skill levels perform fun and informed readings, complete with card meanings and instructions
DELUXE PACKAGING: The tarot deck and guidebook come packaged in a deluxe gift box, perfect for the cat lover or pop culture fan in your life