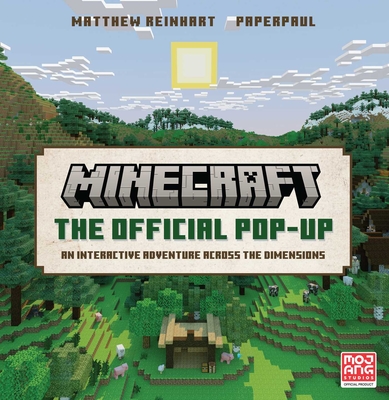 Minecraft: The Official Pop-Up (Reinhart Pop-Up Studio)
Publication Date:
October 31st, 2023
Publisher:
Insight Editions
Usually Ships in 1 to 5 Days
Description
Discover a whole new dimension of Minecraft with Minecraft: The Official Pop-Up, an interactive book that takes you on an eye-catching journey as you craft, gather, and explore!
Dive into the open world of Minecraft in this intricate, interactive pop-up book! Featuring five lively "pops," each new page brings delight as you take on creepers, zombies, and endermen. Never-before-seen, original illustrations give new depth to your favorite biomes, caves, and dungeons, all in the palm of your hand.
From surviving the first night to building a unique base, Minecraft: The Official Pop-Up is the ultimate celebration of every player's unique experiences. This deluxe pop-up book is the ideal collector's item for Minecraft fans of all ages as they experience their favorite mobs in new ways.
FIVE INTERACTIVE POPS: With each turn of the page, you explore new biomes and confront familiar foes in vibrant, detailed "pops" full of surprises to discover
FUN FOR THE WHOLE FAMILY: With stunningly detailed pop-up scenes and hidden surprises to discover, this pop-up book is sure to delight Minecraft fans of any age or skill level
PLAY AND DISPLAY: Minecraft: The Official Pop-Up is ideal for displaying on a bookshelf or using as a companion while playing the game itself
FAN-FAVORITE MOBS AND CHARACTERS: Explore the engrossing world of Minecraft as you create, craft, and confront your favorite mobs and creatures