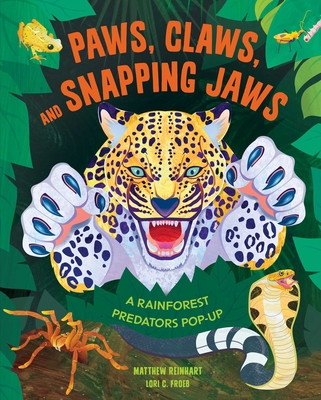 Paws, Claws, and Snapping Jaws Pop-Up Book (Reinhart Pop-Up Studio): A Rainforest Predators Pop-Up
Publication Date:
September 19th, 2023
Publisher:
Insight Editions
Usually Ships in 1 to 5 Days
Description
Turn the page to make jaguars leap, crocodiles snap, eels slither, and   the m  a  jesty and   beauty of the rainforest come to life in this intricate pop-up book from New York Times bestselling author and master   paper engineer Matthew Reinhart.
Discover what's hiding under the thick forest canopy in Rainforest Predators: A Wild World Pop-Up! This deluxe pop-up book features five of the largest tropical and temperate rainforests in the world and the unique animals and plants that call them home. From the Amazon to the Congo Basin, paper engineer extraordinaire Matthew Reinhart builds heart-stopping scenes including an endangered Amazonian jaguar leaping right at you, a tree growing at the turn of a page, and more interactive moments that showcase the beauty and wildness of rainforests. With stunning artwork and scientifically accurate descriptions of each forest, animal, and plant, this pop-up will delight nature lovers the world over!
DOZENS OF DETAILED POPS: Fierce creatures leap off the page in intricate and elaborate pop-up scenes
20+ FASCINATING CREATURES: See and learn about the endangered animals unique to each rainforest
STUNNING ILLUSTRATIONS: Beautiful artwork depicts creatures and habitats
FOR EXPLORERS OF ALL AGES: Kids and adults alike can travel deep into the world's largest rainforests. Fascinating and fun from cover to cover, this attention-grabbing offering will captivate readers and keep them coming back for more
MASTER PAPER ENGINEER: Created by Matthew Reinhart, one of the most honored and bestselling pop-up book paper engineers in the world