Preorder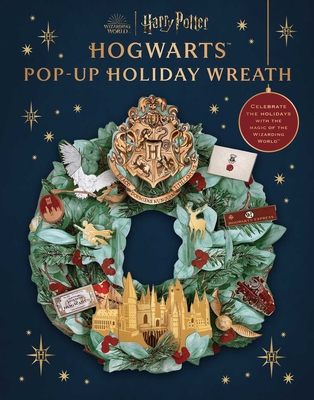 Harry Potter: Hogwarts Pop-Up Holiday Wreath (Reinhart Pop-Up Studio)
Publication Date:
September 4th, 2024
Publisher:
Insight Editions
Description
Bring the magic of the holidays and the Wizarding World™ into your home this season with this beautiful and innovative 3D pop-up holiday wreath.
Designed by master paper engineer Matthew Reinhart, this holiday wreath is the perfect way to celebrate the season and your Harry Potter fandom with a new holiday tradition.
POPS UP LIKE MAGIC: Open the cover and watch the intricately designed holiday wreath burst to life
DECORATE WITH HARRY POTTER STYLE: This gorgeous holiday wreath features the Hogwarts™ crest, four interchangeable ornaments with different Harry Potter™–inspired icons to hang on the wreath, and a beautiful flying Golden Snitch™ as the bow
SET UP IN A SNAP: Place this 3D wreath on a table or hang on a door for a mess-free way to to display your Harry Potter™ fandom and decorate for the holidays
A NEW TRADITION: Bring out the Harry Potter: Hogwarts Pop-Up Holiday Wreath year after year
EASY STORAGE: After the holidays, the wreath folds back down flat for easy and space-saving storage until it's time to decorate next year.
SPREAD HOLIDAY CHEER: Share your love of the holidays and Harry Potter™ with friends and family. The Harry Potter: Hogwarts Pop-Up Holiday Wreath is the perfect gift to spread some holiday magic to friends and family this season
COMPLETE YOUR COLLECTION: Harry Potter: Christmas at Hogwarts Magical Movie Moments and Harry Potter: A Hogwarts Christmas Pop-Up Advent Calendar also available.