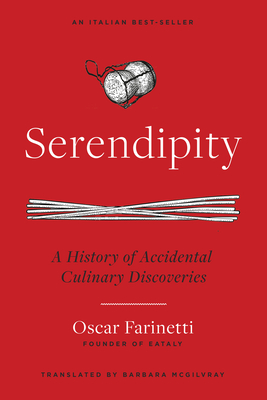 Serendipity: A History of Accidental Culinary Discoveries
Publication Date:
November 1st, 2022
Publisher:
Apollo Publishers
Usually Ships in 1 to 5 Days
Description
Eataly founder Oscar Farinetti reveals the accidental, serendipitous discoveries that gave birth to some of the world's most well-known gastronomic delights.Did you know that your morning coffee could be thanks to a herd of energetic goats? Or that a forgotten ingredient is behind the invention of the beloved brownie? Who got the fright of their life discovering corn could pop? And which popular soft drink first started out as a medicinal syrup?In Serendipity, Oscar Farinetti, founder of the high-end global food chain Eataly, shares fifty remarkable stories of how some of the greatest successes and examples of excellence in the food world came about by chance, from the invention of foods such as tarte tatin to the sandwich, as well as products like Nutella and corn flakes, plus some of the world's best wines, Gorgonzola cheese, balsamic vinegar, French fries, rum, and even the ice-cream cone. As Farinetti dives deep into these extraordinary histories, insightful and entertaining interviews with leading artisan food producers, chefs, inventors, and CEOs around the world provide additional color and rare context. The result is a remarkable read that explores humankind's never-ending quest to discover something new and reminds us that our mistakes, our flaws, and our failures can often be the most necessary ingredient in finding success.