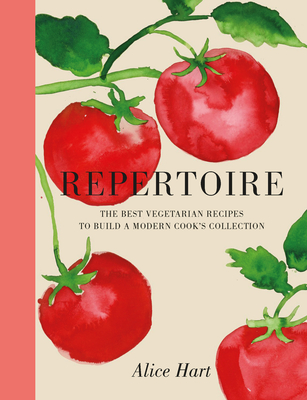 Repertoire: A Modern Guide to the Best Vegetarian Recipes
Publication Date:
November 7th, 2023
Usually Ships in 1 to 5 Days
Description
For anyone who loves vegetables, Repertoire will undoubtedly become a heavily thumbed and sauce-spattered book, sitting in the kitchen to be consulted often or flicked through for inspiration.
Alice Hart shares over 90 or her gutsiest, most flavourful vegetarian recipes to celebrate vegetables and make them the star of every dish. From brunches that are just as good for supper to characterful sides that can double as mains and an entire chapter of sauces to add true oomph to your kitchen, this is a real mix and match affair that will have you cooking with confidence.
Try the Roast Cauliflower, Onion & Chickpea Soup on a cold day, the Crisp Tomato Fritters with Feta & Olives for a summery, light bite and An Excellent Ratatouille when only comfort food will do. The sheer variety of recipes make a sociable collection; a repertoire suitable for both feasting and every day cooking. The indulgent dessert chapter is an essential for rounding off special occasions properly... you can't go wrong with Salted Honeycomb Chocolate Brownies or an Apple, Marzipan and Amaretti Crumble.
Repertoire is a compilation of greatest hits, designed to be the ultimate vegetarian cookbook for your kitchen: a complete collection of modern classics, future classics and 'signature' dishes for every occasion.