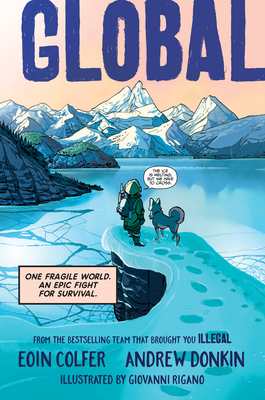 Global: One fragile world. An epic fight for survival.
Publication Date:
April 11th, 2023
Publisher:
Sourcebooks Young Readers
Usually Ships in 1 to 5 Days
Description
From New York Times bestselling author Eoin Colfer and the team behind the Artemis Fowl graphic novels and bestselling, acclaimed graphic novel Illegal comes a compelling and timely story that follows two courageous children as they face the effects of climate change.
Time is running out for Sami and Yuki.
Sami and his grandfather live in a village along the Indian Ocean. They earn their living by fishing. But the ocean is rising and each day they bring back fewer and fewer fish.
Yuki lives in the far north of Canada where warming temperature are melting the ice. Polar bears have less food to hunt and are wandering into town looking for something to eat. Yuki is determined to do something to help the bears.
Praise for Illegal:
"Achingly poignant graphic novel"—Publishers Weekly, STARRED review
 "Moving and informative, Illegal puts an unforgettable human face to the issue of immigration; it is recommended for all readers of middle school level or higher."—ForeWord, STARRED review
"Action-filled and engaging but considerate of both topic and audience, Ebo's story effectively paints a picture of a child refugee's struggle in a world crisscrossed by hostile borders."—Kirkus Reviews, STARRED review
"Rigano's gorgeously saturated panels—rich in details, affecting in its captured expressions, landscapes made spectacular as if a reminder of everyday beauty despite tragedy—proves to be an enhancing visual gift to the already stirring story."—Booklist, STARRED Review
"Raw, realistic, and emotional, this graphic novel puts a harrowing spin on immigration and the risks people take to seek opportunities in other countries.... This graphic novel...makes truths about humanity abundantly clear with the frightening situations and tragic outcomes conveyed through the narrative, emotive illustrations, and the true story in the last five pages."—VOYA Magazine
Praise for Global: One fragile world. An epic fight for survival.
"The text is pointed and poignant, beautifully complemented by dynamic illustrations that bring the scenes to dramatic life. Backmatter does an excellent job summarizing global warming…Timely and boldly told." — Kirkus Reviews
"Heart-pumping… Realistically rendered, suspense-filled illustrations by Rigano portray the children's harrowing experiences with sharp clarity. Colfer and Donkin's tense narrative clearly outlines contemporary climate change–related realities amid relentless, riveting action." — Publishers Weekly
"Offer[s] accessible and memorable entry points to a topic that can easily become overwhelming in scope...vibrant and rich." — Bulletin of the Center for Children's Books
"Vibrant…the two perspectives are beautifully captured." — Youth Services Book Review
"A gripping graphic novel that is a hopeful call to action for all readers. Highly recommended." — School Library Journal
"This book provides readers with two adventure stories for the price of one" — School Library Connection
"Haunting and evocative…Global helps us learn about ourselves, our world, and our responsibilities to the Earth. It's the ideal way to teach young children about global issues." — Kids Minds
"A gripping graphic novel that is a hopeful call to action for all readers. Highly recommended." — School Library Connection
"Full of information, emotion, excitement, and entertainment, the graphic novel Global puts a human face to the problem of climate change." — Foreword Reviews, STARRED review