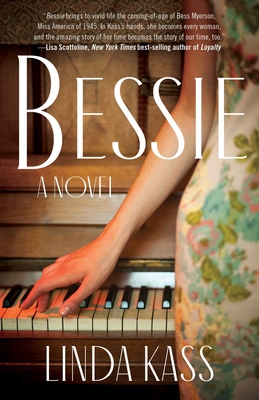 Bessie
Publication Date:
September 12th, 2023
Publisher:
She Writes Press
Usually Ships in 1 to 5 Days
Description
Drawing on biographical and historical sources, Bessie reimagines the early life of Bess Myerson-the talented daughter of poor Russian Jewish immigrants-who, in the bigoted milieu of 1945, remarkably rises to become Miss America.
Praise for Bessie
"I loved Linda Kass's Bessie, which brought to vivid life the coming-of-age of the remarkable Bess Myerson, who may be known for being Miss America, but who truly was so much more: a brilliant young scholar, a musical prodigy, and a woman who stood tall against the anti-Semitism, sexism, and injustice of her era. Kass is a superbly talented writer, and in her hands, Bess Myerson becomes every woman, and the amazing story of her time becomes the story of our time, too. Brava!"
--Lisa Scottoline, New York Times best-selling author of Eternal
"Linda Kass imagines the early life of the five-foot-ten beauty from the Bronx who became the first--and so far only--Jewish woman to win the crown, a feat made all the more fascinating by the fact that her victory came just six days after the end of World War II, at a time when anti-Semitism was so rampant . . . . Kass gives a detailed look at Myerson's young adulthood, the runup to winning the coveted crown, and the aftermath, when, cutting short her Miss America tour, she decides to instead tour on behalf of the Anti-Defamation League to combat prejudice. Bessie is a tender, sensitive, and well-researched exploration of the inner life of a legendary beauty, who was fighting personal battles the world never saw."
--Kristin Harmel, New York Times bestselling author of The Forest of Vanishing Stars and The Book of Lost Names
"Linda Kass's deeply researched novel, Bessie, is a poignant origin story, a fascinating window into mid-century American life, and a compelling brief for Bess Myerson as an authentic American heroine."
--Louis Bayard, author of Jackie & Me and The Pale Blue Eye
"With Bessie, her third work of historical fiction, Linda Kass creatively melds deep research with the breath of life from her own rich imagination. Here is a deft and touching portrait of a shy, nerdy, nearly six-foot tall young girl -- one Bessie Myerson - who rides the waves of her arresting beauty to become the first Jewish woman to win the Miss America title. Kass offers a careful understanding of what made this female pioneer in broadcasting, advocacy, and government tick."
--Helen Schulman, New York Times bestselling author of Come with Me and This Beautiful Life
"Kass has written a detailed, fascinating profile of the early years of the former Miss America that explores the themes of prejudice, beauty, and self-worth. Insightful and eye-opening."
--Fiona Davis, New York Times best-selling author of The Magnolia Palace
"Abundant in graceful storytelling and vivid historical detail, Bessie is a fascinating portrait of a woman who was so much more than a beauty queen. Bess Myerson's persistence against antisemitism and her determination to use her fame to speak out against prejudice resonate strongly in our own challenging times."
--Jennifer Chiaverini, New York Times best-selling author of Switchboard Soldiers
"Bessie makes the first Jewish woman to win the Miss America title, Bess Myerson, come alive in a way her celebrity status never fully allowed. Linda Kass builds the character of Bessie through the complicated layers of all Bess Myerson carried with her--her dreams of being a composer, her longing to be loved by her joyless and demanding mother, the pain she felt over racial inequality, and everything she had to tolerate in order to find the platform for her voice, a voice she was determined to use to make a difference in the world. The true beauty of this novel is Linda Kass's artistry. She's created a loving and honest portrait of a woman who meant so much to so many."
--Lee Martin, author of the Pulitzer Prize Finalist, The Bright Forever
"Like all celebrities, Bess Myerson seemed to come from out of nowhere-- a bright meteor suddenly streaking across the night sky. But in this evocative new book by Linda Kass, we learn the backstory of Myerson, the first Jewish woman to win the Miss America title, whose looks and talent captivated the mid-20th-century world. Bessie reveals the passions that propelled her and the insecurities that haunted her. Along the way, it puts this complex woman where she belongs: back in the spotlight, with all eyes upon her."
--Julia Keller, Pulitzer Prize-winning journalist and author of A Killing in the Hills
"Incredibly well-researched, Bessie is an engaging historical novel that examines the bigotry and biases experienced by Bess Myerson, the first Jewish woman to win the Miss America title--with parallels to the incessant prejudices present in our contemporary life. Inspiring and thought-provoking!"
--Patrick Losinski, CEO, Columbus Metropolitan Library
"Readers are fortunate to have novelist Linda Kass bring forth the hidden stories of American women. Bess Myerson was the first Jewish woman to win the Miss America title, but she was so much more than a beauty queen. . . . Myerson was an inspiration for women in the post WWII years and her story needs to be remembered. Bessie deserves a crown."
--Pamela Klinger-Horn, Valley Booksellers