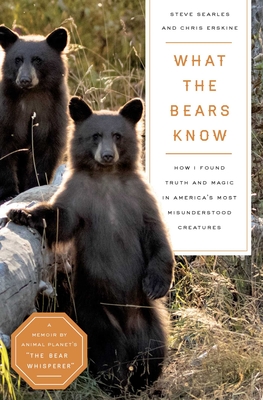 What the Bears Know: How I Found Truth and Magic in America's Most Misunderstood Creatures—A Memoir by Animal Planet's "The Bear Whisperer"
Publication Date:
October 3rd, 2023
Usually Ships in 1 to 5 Days
Description
The incredible story of how one man went from a hired hunter to becoming one of America's top champions for this iconic animal.
**A USA TODAY Bestseller**
In this wondrous and eye-opening exploration, Steve Searles, the renowned and respected "Bear Whisperer" of Mammoth Lakes, takes the reader on a journey into the lives of these remarkable creatures and the world we share.
In the late 1990s, the town of Mammoth Lakes, California hired Steve Searles as a hunter to cull half its troublesome bear population. But as he began to prepare for the grim task, the bears soon won him over, and Searles realized there had to be a better way. He soon developed non-lethal tactics to control their behavior and overpopulation that heralded a landmark moment in the care and handling of the American black bear.
But change was not without its challenges. To some, his success was dismissed due to his lack of formal academic training. Yet Searles never wavered in his commitment, and eventually became not just local folk hero but a nationally recognized expert. This high school dropout saved not just the bears, but, in many ways, his community.
In a tradition that runs from John Muir to Bear Grylls, Searles finds a fellowship with nature and a deeper meaning in the world of bears. Do bears understand things we don't? Are they dialed in to some greater natural force?
Unlike us, bears waste little time on unreasonable fears. Bears are fully in the moment. They have an inner peace that seems to offset their power and strength. That may explain why no other animal on the planet is as revered as the bear.
As Searles shares his remarkable knowledge and we become immersed in the ursine world, you'll never look at bears or nature the same way again. Warm and poignant, and perfect for anyone who has been fascinated by the natural world, What the Bears Know shows that wisdom and fulfillment can come from unexpected places.
Praise for What the Bears Know: How I Found Truth and Magic in America's Most Misunderstood Creatures—A Memoir by Animal Planet's "The Bear Whisperer"
"Mr. Searles knew that his work would involve managing people more than bears. Human beings and black bears can coexist, he maintains. It all makes for a strenuous life, a rollicking memoir, and a fulsome sense of gratitude."
— Wall Street Journal
"Steve Searles and Chris Erskine's new book is a fascinating and inspiring read."
— Marc Bekoff Ph.D., Psychology Today
"A touching and humorous memoir highlighting Searles' life and achievements."
— Outlook Valley Sun
"One thing you shouldn't fear is that is a dry animal-encounter primer. The writers draw you in with funny anecdotes, and Searles discusses his difficult past,"
— Los Angeles Times
"Not only is Searles training the bears, but working with the town's inhabitants to not tempt the bears and facing challenges from those who question his methods.  Along the way, many myths about bears are addressed and corrected.  Searles and the bears are captivating subjects in this funny and moving work."
 
— Booklist
"It will be hard to find anyone with more passion for bears than Steve Searles. His approach to human-animal conflict is the opposite of domination. He know his animals intimately and as no other shows the way to mutual respect."
— Frans de Waal, author of Mama's Last Hug: Animal Emotions and What They Tell Us about Ourselves
"The fascinating wildlife work of Steve Searles, the smooth prose and humor of Chris Erskine and the wisdom of these amazing bears make for an immensely satisfying read. I've long suspected that bears know more than they are letting on and this book is proof that they have much to teach us. What the Bears Know is warm, wise and irresistible."
 
— Lian Dolan, author of The Sweeney Sisters and host of the Satellite Sisters podcast
"This gorgeous, funny, deeply humane story is precisely what we need in this moment—a reminder of our animal instincts, our better angels, and our responsibility to honor and hold the two in harmony."
— Heidi Stevens, columnist
"This book is far more than a California story.  As bears sometimes cut a path lager than they appear, so are the implications in this simple yet important narrative."
— Anthony Portantino, California state senator 
"The unlikely and inspiring life of Steve Searles is well-told in the masterful hands of Chris Erskine, Los Angeles' version of Mark Twain. Armed with a dogged work ethic and a roguish charm, Searles evolves from a contractor to Forrest Gump of the Forest. Searles shows us what is possible when humans and very large and misunderstood animals live close together in an ever-changing world."
— Russ Stanton, former Editor-in-Chief, Los Angeles Times