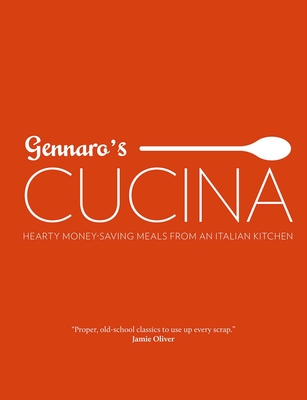 Gennaro's Cucina: Hearty Money-Saving Meals from an Italian Kitchen
Publication Date:
October 3rd, 2023
Publisher:
Interlink Books
Usually Ships in 1 to 5 Days
Description
Delicious, hearty Italian meals using accessible and affordable ingredients, by one of the world's most beloved Italian chefs.
In an era of excessive convenience and disposable food waste, Gennaro's Cucina could not come at a better time—you will learn how to use simple ingredients in inventive ways, eat seasonally, spend less, and ultimately eat better.

"Cucina povera" is the food that traditionally fed the poor of Italy, yet remains the basis of most Italian dishes we love to eat today. It's a simple philosophy—delicious, hearty meals using accessible and affordable ingredients. Encouraging an ethos of zero waste, Gennaro's Cucina ensures that every part of the ingredient, and your budget, is put to good culinary use.
Along with the majority of post-war Italian families, a young Gennaro was raised on a diet harvested on a limited budget. Restricted choice of scarce ingredients meant they learned the value what they had, how to cook dishes lovingly, and use imaginative methods of preservation to make simple dishes go far: including salting, drying and curing.
In this inspirational cookbook, Gennaro takes you on a culinary journey of simple regional Italian staples and turns them into beautiful meals. With tips and ideas of what to do with leftovers, Gennaro helps home cooks squeeze maximum use from the "cucina povera" ethos, turning humble ingredients into nourishing feasts without sacrificing flavor.
From Sicilian chickpea fritters to lentil soups and bread salads, to more elaborate filled vegetables, delicious "poor-man's" ricotta dumplings, and simple sweet biscotti, this book will transform the way you shop, cook, and eat.
Praise for Gennaro's Cucina: Hearty Money-Saving Meals from an Italian Kitchen
"Proper, old-school classics to use up every scrap"
— —Jamie Oliver
"The Amalfi Coast is known for extra-sweet, thick-skinned lemons, and native Contaldo digs into the area's flavor in a collection as bright and cheerful as its subject … Whether codifying the 17-day process for crafting limoncello or explaining how friends at a hometown pastry shop candy citrus peel, Contaldo evokes joy."
— —Publishers Weekly on Gennaro's Limoni
"With each recipe, Contaldo brings joy and dazzlement."
— —Publishers Weekly on Panetteria
"What a fantastic book – delicious Italian food, fast."
— —Jamie Oliver on Gennaro's Fast Cook Italian
"'[An] excellent cookbook … fun to read …This delightful cookbook will educate and inspire."
— —Publishers Weekly (starred review) on Gennaro's Pasta Perfecto!
"Italian master-chef Contaldo, who famously taught Jamie Oliver to cook Italian, recounts his childhood in exquisite detail, matching his recollections to the subject on point … Artfully arranged photographs and some well-worn and much-needed tips round out what will soon be an oft-referred-to classic."
— —Booklist (starred review) on Passione
"Contaldo (Gennaro's Limoni) takes inspiration from cucina povera, an Italian tradition of frugality in the kitchen, in this no-frills guide to easy, delicious, and wallet-conscious cooking … Many meals are quick and simple and Contaldo's straightforward instructions make even the most elaborate dishes feel approachable … This is an easy pick for those looking to expand their Italian repertoire without breaking the bank."
— — Publishers Weekly
"A wonderful and welcome addition to the canon of Italian cuisine, filled with gorgeous photography … Focusing on Italian cucina povera, or the cuisine of the poor, celebrated chef Contaldo (Gennaro's Limoni) offers up simple but hearty dishes to prepare … Expanding on the concept of not wasting food, Contaldo also offers suggestions for using up leftovers. Recipes are from all over the Italian peninsula, and each recipe is accompanied by a short paragraph on the background of the dish."
— —Library Journal
"Gennaro's Cucina: Hearty Money-Saving Meals From an Italian Kitchen (Interlink, $35, 9781623717551) by Gennaro Contaldo focuses on cucina povera, the tra- ditional cooking of rural Italy, where seasonality and a "waste not want not" life-style deliciously intersect. If you love to buy loaves of artisan bread but often find them stale before you can eat them up, grab this book. Numerous recipes incorporate past-its-prime bread— you're probably familiar with panzanella, but here we're introduced to ribollita, a Tuscan bean and bread soup; cooked bread with arugula and pancetta; and many more dishes that make me want to go out and buy a loaf just to let it sit until I'm ready to cook. But meat and fish are hardly overlooked here, nor is pasta (after all, what is it but a bit of water and flour?) and sweets such as mini ricotta doughnuts and Sardinian sweet ravioli."
"Gennaro Contaldo focuses on cucina povera, the traditional cooking of rural Italy, where seasonality and a 'waste not want not' lifestyle deliciously intersect. If you love to buy loaves of artisan bread but often find them stale before you can eat them up, grab this book.."
— — Book Page