New Release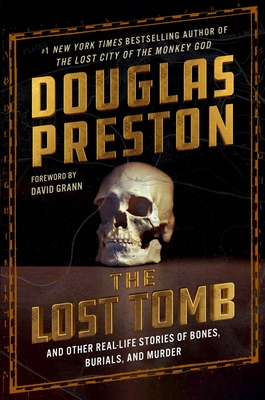 The Lost Tomb: And Other Real-Life Stories of Bones, Burials, and Murder
Publication Date:
December 5th, 2023
Publisher:
Grand Central Publishing
Usually Ships in 1 to 5 Days
Description
Douglas Preston, the #1 bestselling author of The Lost City of the Monkey God, presents the jaw-dropping discovery of a vast Egyptian tomb containing dozens of sealed burial chambers, as well as recounting tales of pirate treasure, mysterious deaths, archaeological mysteries, and more… 
What's it like to be the first to enter an Egyptian burial chamber that's been sealed for thousands of years? Where might a blocked doorway or newly excavated corridor lead? And what might this stupendous tomb reveal about the most powerful pharaoh in Egyptian history? 
From the jungles of Honduras to macabre archaeological sites in the American Southwest, Douglas Preston's journalistic explorations have taken him across the globe. He broke the story of an extraordinary mass grave of animals killed by the asteroid impact that caused the extinction of the dinosaurs, he explored what lay hidden in the booby-trapped Money Pit on Oak Island, and he roamed the haunted hills of Italy in search of the Monster of Florence. When he hasn't been co-authoring bestselling thrillers featuring FBI Agent Pendergast, Preston has been writing about some of the world's strangest and most dramatic mysteries.
The Lost Tomb brings together an astonishing and compelling collection of true stories about buried treasure, enigmatic murders, lost tombs, bizarre crimes, and other fascinating tales of the past and present.
Praise for The Lost Tomb: And Other Real-Life Stories of Bones, Burials, and Murder
"[S]o skillfully sketched is the lure of the unknown in Preston's collection of essays. From the safe distance of the pages of The Lost Tomb, we are allowed a delicious taste of what it is to be consumed with the desire to know, even when all evidence points to the fact that, maybe, we are better off leaving a mystery alone."—Bookpage, starred review
"[A] gripping compendium of his journalistic work […] Throughout, Preston tackles his subjects with the obsessive enthusiasm of an amateur detective and the skills of a seasoned novelist; even those who read the articles when they first were published will take pleasure in new afterwords that provide updates about Preston's theories. This is unbeatable reading for armchair sleuths."—Publishers Weekly, starred review
"Buffs of buried-treasure and long-ago true-crime tales will enjoy Preston's expertly woven tales."—Kirkus
""The pieces are so good and the reporting so thorough that The Lost Tomb is a worthy addition to library collections."—Booklist
Praise for The Lost City of the Monkey God
"Memoirs of jungle adventures too often devolve into lurid catalogs of hardships [but] Preston proves too thoughtful an observer and too skilled a storyteller to settle for churning out danger porn. He has instead created something nuanced and sublime: a warm and geeky paean to the revelatory power of archaeology...Few other writers possess such heartfelt appreciation for the ways in which artifacts can yield the stories of who we are."—The New York Times Book Review
"A well-documented and engaging read...The author's narrative is rife with jungle derring-do and the myriad dangers of the chase."—USA Today
"Deadly snakes, flesh-eating parasites, and some of the most forbidding jungle terrain on earth were not enough to deter Douglas Preston from a great story."—The Boston Globe
"Breezy, colloquial and sometimes very funny...A very entertaining book."—The Wall Street Journal
"This modern-day archeological adventure and medical mystery reads as rapidly as a well-paced novel, but is a heart-pounding true story."—Shelf Awareness (Starred Review)