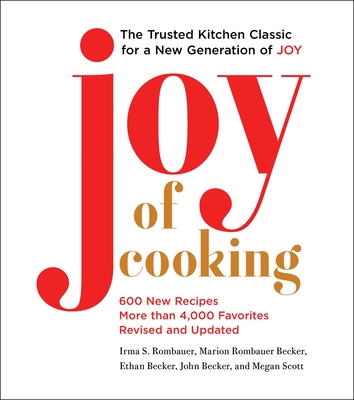 Joy of Cooking: 2019 Edition Fully Revised and Updated
Publication Date:
November 12th, 2019
Usually Ships in 1 to 5 Days
Description
"Generation after generation, Joy has been a warm, encouraging presence in American kitchens, teaching us to cook with grace and humor. This luminous new edition continues on that important tradition while seamlessly weaving in modern touches, making it all the more indispensable for generations to come." —Samin Nosrat, author of Salt, Fat, Acid, Heat
"Cooking shouldn't just be about making a delicious dish—owning the process and enjoying the experience ought to be just as important as the meal itself. The new Joy of Cooking is a reminder that nothing can compare to gathering around the table for a home cooked meal with the people who matter most." —Joanna Gaines, author of Magnolia Table
In the nearly ninety years since Irma S. Rombauer self-published the first three thousand copies of Joy of Cooking in 1931, it has become the kitchen bible, with more than 20 million copies in print. This new edition of Joy has been thoroughly revised and expanded by Irma's great-grandson John Becker and his wife, Megan Scott.
John and Megan developed more than six hundred new recipes for this edition, tested and tweaked thousands of classic recipes, and updated every section of every chapter to reflect the latest ingredients and techniques available to today's home cooks. Their strategy for revising this edition was the same one Irma and Marion employed: Vet, research, and improve Joy's coverage of legacy recipes while introducing new dishes, modern cooking techniques, and comprehensive information on ingredients now available at farmers' markets and grocery stores.
You will find tried-and-true favorites like Banana Bread Cockaigne, Chocolate Chip Cookies, and Southern Corn Bread—all retested and faithfully improved—as well as new favorites like Chana Masala, Beef Rendang, Megan's Seeded Olive Oil Granola, and Smoked Pork Shoulder. In addition to a thoroughly modernized vegetable chapter, there are many more vegan and vegetarian recipes, including Caramelized Tamarind Tempeh, Crispy Pan-Fried Tofu, Spicy Chickpea Soup, and Roasted Mushroom Burgers. Joy's baking chapters now include gram weights for accuracy, along with a refreshed lineup of baked goods like Cannelés de Bordeaux, Rustic No-Knead Sourdough, Ciabatta, Chocolate-Walnut Babka, and Chicago-Style Deep-Dish Pizza, as well as gluten-free recipes for pizza dough and yeast breads.
A new chapter on streamlined cooking explains how to economize time, money, and ingredients and avoid waste. You will learn how to use a diverse array of ingredients, from amaranth to za'atar. New techniques include low-temperature and sous vide cooking, fermentation, and cooking with both traditional and electric pressure cookers. Barbecuing, smoking, and other outdoor cooking methods are covered in even greater detail.
This new edition of Joy is the perfect combination of classic recipes, new dishes, and indispensable reference information for today's home cooks. Whether it is the only cookbook on your shelf or one of many, Joy is and has been the essential and trusted guide for home cooks for almost a century. This new edition continues that legacy.
Praise for Joy of Cooking: 2019 Edition Fully Revised and Updated
"Cooking shouldn't just be about making a delicious dish — owning the process and enjoying the experience ought to be just as important as the meal itself. The new Joy of Cooking is a reminder that nothing can compare to gathering around the table for a home cooked meal with the people who matter most." -Joanna Gaines, author of The Magnolia Table
"Back in 1988 my mother gave me my very first cookbook: her beloved copy of the Joy of Cooking. Joy became a foundational part of how I learned to cook.... This is the cookbook I will always cherish and hold dear to my heart. And now I'm excited to pass this wonderful new edition of Joy to my son." -Edouardo Jordan, James Beard Award-winning chef
"Hot stuff: new Joy of Cooking coming out in November." -Associated Press
"John Becker and Megan Scott have done the impossible: They've remained true to Joy's core while updating it to reflect today's palate. This beloved culinary classic has been modernized without sacrificing the heart and soul of America's go-to cookbook." -Grace Young, author of The Breath of a Wok and Stir-frying to the Sky's Edge
"I've always kept Joy of Cooking on my cookbook shelf. My grandmother's edition was passed to my mother and then down to me and it never failed me…If you understand the basics of what one ingredient does to another, you can tackle a recipe with confidence. That information has always been at the core of Joy of Cooking. Not to mention some pretty fabulous recipes…You will find wonderful detail ...in this edition!" -Kyle MacLachlan, award-winning actor and vintner
"Through its many editions, Joy of Cooking has long been an essential guide to the eclectic and always evolving American kitchen. With this latest update and its embrace of more than a decade's worth of newly arrived ingredients, dishes, tools, and understanding, Joy remains an unsurpassed resource for beginners and experienced cooks alike." -Harold McGee, author of On Food & Cooking: The Science & Lore of the Kitchen
"Joy of Cooking isn't a book, but a rite of passage, part of the living legacy of home cooks in America. ... It's hard to imagine a better crash course for beginners, or a more comprehensive resource for experienced cooks." -Stella Parks, author of Bravetart: Iconic American Desserts
"Generation after generation, Joy has been a warm, encouraging presence in American kitchens, teaching us to cook with grace and humor. This luminous new edition continues on that important tradition while seamlessly weaving in modern touches, making it all the more indispensable for generations to come."  -Samin Nosrat, author of Salt Fat Acid Heat
"Joy of Cooking is a mainstay in kitchens throughout America...accessible and comprehensive. The 2019 updated edition is the latest in Joy's long history of working to reflect the current home cook." -Food & Wine
"Every kitchen should have running water, a stove, and a copy of Joy." -Saveur
"This new edition of the Joy of Cooking is a masterwork. It's also an affectionate nod to the spirit of Joy's mother, Irma Rombauer. Her legacy of encouraging and empowering cooks lives on in this respectful and exciting new edition.  It will delight you and will become your go-to resource."  - Robin Mather, Chicago Tribune
"This new edition is a virtual necessity in any kitchen...and an astonishing value at its list price." -Booklist, starred review
"Impressive, timely… Becker and Scott have improved upon a classic without bending it so sharply that it will feel dated in a decade—quite an achievement indeed." -Publisher's Weekly, starred review
"Joy of Cooking has been in print since the Great Depression, but...it's definitely no longer your grandmother's cookbook. Consider it a must-have for every budding home cook." -Eater