Preorder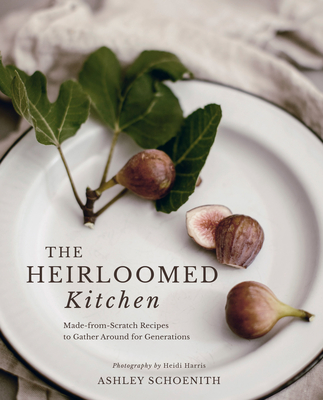 The Heirloomed Kitchen: Made-From-Scratch Recipes to Gather Around for Generations
Publication Date:
January 23rd, 2024
Description
"The Heirloomed Kitchen is a beautiful, inspiring cookbook marked by warm Southern hospitality and nostalgia for days gone by."--Foreword Reviews
Ashley Schoenith's The Heirloomed Kitchen: Made-from-Scratch Recipes to Gather Around for Generations takes us back to our grandmother's kitchen with enticing aromas and made-from-scratch meals cooked with love.
Ashley Schoenith's The Heirloomed Kitchen is a carefully curated cookbook with nostalgic-style photography that beautifully presents the food while also showcasing heirloom cookware, serving vessels and utensils, and the gracious gentility of Southern hospitality. The recipes are slow-paced and packed with family memories taken from those splattered, handwritten recipe cards passed down from mother to child to grandchild.
The 100 plus recipes, along with elegant photography, bring you to the table for family meals with breakfasts, appetizers, soups, salads, main dishes, sides, desserts, special holiday gatherings, and, of course, classic drinks for the cocktail hour. You'll find Flaky Buttermilk Biscuits, Fried Green Tomatoes, Chicken and Dumplings, St. George Island Shrimp and Grits, Cornmeal-Fried Okra, Banana Pudding Cups, Wild Strawberry Shortcakes, Derby Mint Juleps, and Back Porch Sun Tea all calling you to the dining room for food, family, and memory making.