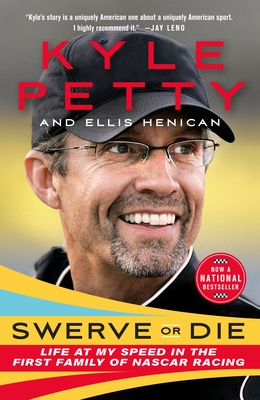 Swerve or Die: Life at My Speed in the First Family of NASCAR Racing
Publication Date:
September 5th, 2023
Publisher:
St. Martin's Griffin
Usually Ships in 1 to 5 Days
Description
*A Wall Street Journal, Southern Indie, and Publishers Weekly Bestseller*
Stock-car racing star, country singer, and sports broadcaster Kyle Petty shares his familial legacy, intertwined with NASCAR's founding and history, in Swerve or Die—written with Pulitzer Prize-winner Ellis Henican, the New York Times bestselling coauthor of In the Blink of an Eye.
"Born into racing royalty. The only son of NASCAR's winningest driver ever. The grandson of one of the sport's true pioneers. The nephew of our very first Hall of Fame engine builder. It's quite a family to represent, and through it all, I've somehow managed to keep being Kyle."
Kyle Petty won his very first stock-car race, the Daytona ARCA 200, in 1979 when he was eighteen. Hailed as a third-generation professional NASCAR racer, he became an instant celebrity in circles he had been around all his young life. Despite being the grandson and son of racing champions Lee Petty and Richard Petty, Kyle didn't inherit innate talent. Working in his family's North Carolina race shop from an early age, he learned all about car mechanics and maintenance long before he got behind the wheel. And although Kyle continued the family business, driving "Petty blue" colored cars emblazoned with his grandfather's #42—a number once used by Marty Robbins—his career took a different route than his forebears'.
In Swerve or Die: Life at My Speed in the First Family of NASCAR Racing, Kyle chronicles his life on and off the racetrack, presenting his insider's perspective of growing up throughout the sport's popular rise in American culture. In between driving and running Petty Enterprises for thirty years, Kyle took some detours into country music, voiced Cal Weathers in Pixar's Cars 3, and started his annual motorcycle Kyle Petty Charity Ride Across America. And when his nineteen-year-old son Adam, a fourth-generation racing Petty, tragically lost his life on the track, Kyle founded Victory Junction, a camp for children with chronic and serious medical conditions in Adam's name—with help from Academy Award-winning actor and motorsports enthusiast Paul Newman.
Filled with NASCAR history, stories of his family's careers, and anecdotes about some of stock-car racing's most famous drivers, Kyle's memoir also tackles the sport's evolution, discussing how welcoming diverse racers, improving car and track safety features, and integrating green technology will benefit NASCAR's competitors and fans in the future.
Includes Photographs