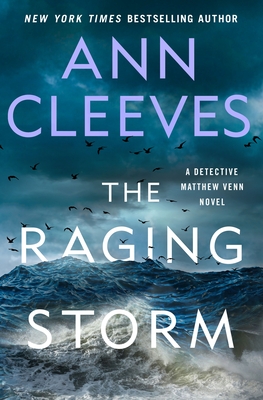 The Raging Storm: A Detective Matthew Venn Novel (Matthew Venn series #3)
Publication Date:
September 5th, 2023
Publisher:
Minotaur Books
Usually Ships in 1 to 5 Days
Description
Ann Cleeves—New York Times bestselling and award-winning author of the Vera and Shetland series, both of which are hit TV shows—returns with The Raging Storm, the extraordinary third installment in the Matthew Venn series.

Fierce winds, dark secrets, deadly intentions.
When Jem Rosco—sailor, adventurer, and legend—blows into town in the middle of an autumn gale, the residents of Greystone, Devon, are delighted to have a celebrity in their midst. But just as abruptly as he arrived, Rosco disappears again, and soon his lifeless body is discovered in a dinghy, anchored off Scully Cove, a place with legends of its own.
This is an uncomfortable case for Detective Inspector Matthew Venn. Greystone is a place he visited as a child, a community he parted ways with. Superstition and rumor mix with fact as another body is found, and Venn finds his judgment clouded.
As the winds howl, and Venn and his team investigate, he realizes that no one, including himself, is safe from Scully Cove's storm of dark secrets.
"A friend of mine once joked that the work of Ann Cleeves is the closest the crime fiction genre comes to evoking ASMR—the euphoric, pleasant, spine-tingling sensation that's all the rage on YouTube. The books never get too dark, never venture too far into dangerous territory, but aren't outright cozy, either."—The New York Times
Praise for The Raging Storm: A Detective Matthew Venn Novel (Matthew Venn series #3)
One of People's Best Books of Fall 2023
"A surprising denouement moves this character-based mystery to the top tier."―Kirkus Reviews (Starred Review)
"The third (after The Heron's Cry) in Cleeves's award-winning series is an atmospheric police procedural that builds on the other books while introducing fascinating suspects."―Library Journal (Starred Review)
"Cleeves crafts a devilishly intricate mystery that will surprise even seasoned genre fans, and Venn remains an appealing lead every bit as memorable as the author's Vera Stanhope or Jimmy Perez. Cleeves's fans and newcomers alike will be hungry for the next entry."―Publishers Weekly (Starred Review)
"Quiet tension, a moody atmosphere, and engaging characters heighten the mystery."―Booklist
"[Cleeves] tells a captivating story"―Wall Street Journal
"As with Cleeves' other series... place and people are as important here as plot."―St. Louis Post-Dispatch
"Cleeves… is as observant as ever about atmosphere and geography, and conjures an impression of oppressive bleakness, with few daylight hours to brighten the rocky beaches and imposing cliffs. Such relentless dreariness could drive anyone to the edge; the identities of the killers are almost as shocking as the crime itself."―Air Mail