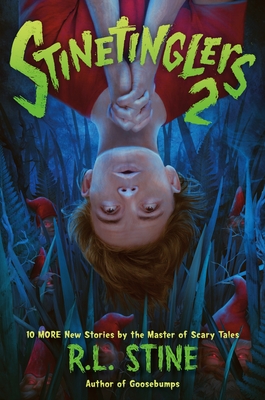 Stinetinglers 2: 10 MORE New Stories by the Master of Scary Tales
Publication Date:
August 29th, 2023
Publisher:
Feiwel & Friends
Usually Ships in 1 to 5 Days
Description
From R.L. Stine, the master of horror for young readers, comes ten new stories that are sure to send a shiver down your spine.
Two kids embark on a field trip to the zoo...and stumble upon a creature they never expected to meet. A boy makes a machine that puts kids in charge...but at what cost? A child is sure his new house is haunted...but is it just in his head? And each story comes with a personal introduction from Stine himself.
Laced with Stine's signature humor and a hefty dose of nightmarish fun, Stinetinglers 2 is perfect for fans of Scary Stories to Tell in the Dark and Stine's own Goosebumps books who want even more scares. These chilling tales prove that Stine's epic legacy in the horror genre is justly earned. Dive in, and beware: you might be sleeping with the lights on tonight!
Praise for Stinetinglers 2: 10 MORE New Stories by the Master of Scary Tales
Praise for R.L. Stine

"Romantic comedy quickly turns to horror and revenge in this story of glam teen movie stars haunted by a Hollywood curse. Enough scares to keep you guessing—and screaming!" —Harlan Coben, author of Seconds Away
"Stine takes the normal anxieties of childhood—in this case, the first day at a new school—and blends exaggerated humor with a few equally exaggerated moments of horror in a fast and goofy romp. Lots of fun for Stine fans." —Booklist
"As usual, Stine delivers the hilarity and horror that readers love, and his mastery of sustaining mood will not disappoint . . . Kids will love the twist at the end." —School Library Journal, starred review
"Stine's signature blend of horror and humor, combined with an unexpected ending, offers a fresh view on a familiar idea." —ABC New York