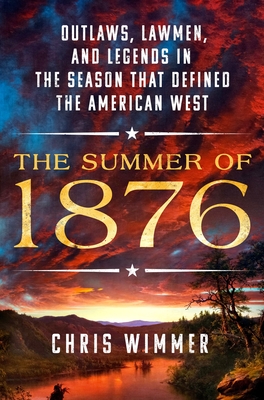 The Summer of 1876: Outlaws, Lawmen, and Legends in the Season That Defined the American West
Publication Date:
May 30th, 2023
Publisher:
St. Martin's Press
Usually Ships in 1 to 5 Days
Description
From the creator of the "Legends of the Old West" podcast, a book exploring the overlapping narratives of the biggest legends in frontier mythology.
The summer of 1876 was a key time period in the development of the mythology of the Old West. Many individuals who are considered legends by modern readers were involved in events that began their notoriety or turned out to be the most famous — or infamous — moments of their lives. Those individuals were Lieutenant Colonel George Armstrong Custer, Sitting Bull, Crazy Horse, Wyatt Earp, Bat Masterson, Wild Bill Hickok, and Jesse James.
The Summer of 1876 weaves together the timelines of the events that made these men legends to demonstrate the overlapping context of their stories and to illustrate the historical importance of that summer, all layered with highlights of significant milestones in 1876: the inaugural baseball season of the National League; the final year of President Ulysses S. Grant's embattled administration; the debut of an invention called the telephone by Alexander Graham Bell; the release of Mark Twain's novel "The Adventures of Tom Sawyer;" and many more.
Contextualizing these events against the backdrop of the massive 100th anniversary party thrown to celebrate the signing of the Declaration of Independence, The Summer of 1876 is the ultimate exploration and celebration of the summer that defined the West.
Praise for The Summer of 1876: Outlaws, Lawmen, and Legends in the Season That Defined the American West
"A fascinating, multiangled account of a consequential season in the history of America's western frontier...[Chris Wimmer] is an amiable and well-informed tour guide of the Old West. All readers have to do is saddle up and enjoy the ride." —Publishers Weekly
"Narrative gold...a rousing read." —Booklist
"brisk and exciting...A lively survey of a watershed historical period and some of its defining figures." —Kirkus Reviews