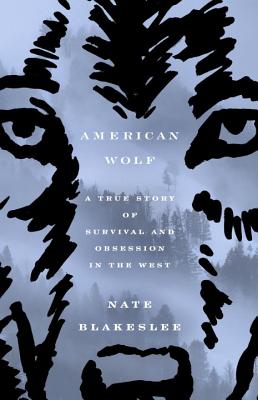 American Wolf: A True Story of Survival and Obsession in the West
Publication Date:
October 17th, 2017
American Wolf uncovers the true legacy of the American wolf's survival after its reintroduction into the Rockies after nearly becoming extinct in the 1920s. The book focuses on renowned wolf O-Six, who's unlike any female wolf that Yellowstone park ranger Rick McIntyre has ever seen. Many of O-Six's survival challenges are directly linked to the larger issue between those against the reintroduction of wolves and those who see wolves as an integral part of our ecosystem. Nate Blakeslee's American Wolf is an essential read for anyone interested in a fascinating piece of American history and learning more about an important issue that continues to plague the West.
November 2017 Indie Next List
This is a great book. It is both emotionally and intellectually resonant, and will appeal to readers regardless of whether they crave a story about nature, politics, or just want to disappear into sprawling adventure and drama. At first I was skeptical about becoming engaged with a story culled largely from field notes, but Blakeslee had me in tears by the end; tears elicited from the story itself and tears from the Stendahl-like feelings elicited from the writing. Well played.
Winter 2018 Reading Group Indie Next List
Description
A NEW YORK TIMES BESTSELLER • The enthralling true story of the rise and reign of O-Six, the celebrated Yellowstone wolf, and the people who loved or feared her.
 
Before men ruled the earth, there were wolves. Once abundant in North America, these majestic creatures were hunted to near extinction in the lower 48 states by the 1920s. But in recent decades, conservationists have brought wolves back to the Rockies, igniting a battle over the very soul of the West.
With novelistic detail, Nate Blakeslee tells the gripping story of one of these wolves, O-Six, a charismatic alpha female named for the year of her birth. Uncommonly powerful, with gray fur and faint black ovals around each eye, O-Six is a kind and merciful leader, a fiercely intelligent fighter, and a doting mother. She is beloved by wolf watchers, particularly renowned naturalist Rick McIntyre, and becomes something of a social media star, with followers around the world.
But as she raises her pups and protects her pack, O-Six is challenged on all fronts: by hunters, who compete with wolves for the elk they both prize; by cattle ranchers who are losing livestock and have the ear of politicians; and by other Yellowstone wolves who are vying for control of the park's stunningly beautiful Lamar Valley.
These forces collide in American Wolf, a riveting multigenerational saga of hardship and triumph that tells a larger story about the ongoing cultural clash in the West—between those fighting for a vanishing way of life and those committed to restoring one of the country's most iconic landscapes.
Praise for American Wolf: A True Story of Survival and Obsession in the West
A New York Times Book Review Editors' Choice
Shortlisted for the 2018 J. Anthony Lukas Prize
An Outside Magazine Best Book of 2017
A Science Friday Best Science Book of 2017
"Blakeslee draws O-Six in novelistic... detail, using the conflicting insight and perspective of biologists, politicians, ranchers, environmentalists, lawyers, other animals, and hunters.... Seeing a wolf is exceptionally rare, and this book is as close as most readers will come." 
—The New Yorker
"A matriarch overthrown in what seems fairly described as a 'putsch,' marauding gangs running attacks into neighboring territory, an hours-long standoff with a grizzly, a discarded water bottle—a rarity in the wilderness of a national park—tossed around and protected like a prized new toy. The lives of the wolves in Yellowstone are often dramatic, but are full of touching, tender moments too, as Nate Blakeslee vividly writes in American Wolf."
—Los Angeles Times
 
"The story of one wolf's struggle to survive in the majestic Yellowstone National Park offers an ambitious look through the eyes of an endangered animal."
—New York Times Book Review
"Ambitious... a significant and engaging work. It's easy to write about the importance of local social life. It's harder to know what to do to support it.... Klinenberg's argument has a powerful simplicity. Look after the social infrastructure and social bonds will largely look after themselves."
—Financial Times
"American Wolf takes its place in a long lineage of wolf books.... [T]here are cherished, striking images here…testament to the ever-flowing life force that is the wolf."
—Rick Bass, New York Times Book Review
"[American Wolf] is a startlingly intimate portrait of the intricate, loving, human-like interrelationships that govern wolves in the wild, as observed in real time by a cadre of dedicated wolf-watchers—in the end, a drama of lupine love, care, and grief."
—Erik Larson, author of The Devil in the White City and Dead Wake 
 
"Wild, poignant, and compelling, American Wolf is an important, beautifully wrought book about animals, about values, and about living on this earth."
—Susan Orlean, author of The Orchid Thief and Rin Tin Tin
 
"A transcendent tale of the American West."
—S. C. Gwynne, author of Empire of the Summer Moon and Rebel Yell
 
"Gripping and fascinating! Wolf versus wolf, wolf versus man, man versus man."
—Margaret Atwood, author of The Handmaid's Tale and Hag-Seed (via Twitter)
"In this vibrant work of nonfiction, a Texas Monthly writer goes into the mind—and heart—of a wolf. He tells the remarkable true story of O-Six, a wolf brought back to the Rockies by conservationists, as she fights hunters, cattle ranchers, and her own species for survival."
—Entertainment Weekly
"[American Wolf] reads like a novel... a testament to the genius of Blakeslee's tautly constructed narrative."
—Outside
"Blakeslee takes readers into the snowy [Lamar Valley], and deep into a genuinely human tale told with the energy and verve of a bestselling thriller. A tight, dense narrative, American Wolf races along like a predator on the hunt."
—Texas Observer
"A masterful and elegant tale."
—Associated Press
"Beautiful, detailed... [American Wolf] centers on the rise, reign, and family life of O-Six, matriarch of the Lamar Canyon pack and so well-known to park visitors that the New York Times gave her an obituary."
—Publisher's Weekly (starred) 
"The fight... [over] Yellowstone's wolves is embodied in O-Six's story, told with great immediacy and empathy in a tale that reads like fiction. This one will grab readers and impel them into the heart of the conflict."
—Booklist (starred)
"Utterly compelling.... Blakeslee's masterly use of fiction writing techniques to ratchet up the tension will hook a wide swath of readers."        
—Library Journal (starred)
"A savory blend of hardcore journalism, biodiversity analysis, weather and terrain reporting and good old-fashioned storytelling... American Wolf is the tale of an extraordinary wolf and those absorbed with her storied life."
—Shelf Awareness
 
"Nate Blakeslee has achieved the Jack London-like feat of creating a great story whose main character is an animal."
—Nicholas Lemann, author of The Big Test and Redemption
 
"There are so few wolves in the West that each one can cast a kind of enchantment. This fine book takes one animal, and uses it as a way to understand the vectors that whipsaw the last wild places. It will linger in your mind and heart."
—Bill McKibben, author of The End of Nature and Radio Free Vermont
"American Wolf is an intimate and riveting book about America's most iconic and embattled predator.... A wonderful and welcome addition to the pantheon of nature literature."
—John Vaillant, author of The Tiger and The Golden Spruce
"A well-rendered story... evenhanded but clearly and rightly on the side of the wolves."
—Kirkus Reviews

"Gorgeously written, and offering stunning insights into both animal and human nature, American Wolf is a masterly feat of science journalism."
—Michael Finkel, author of The Stranger in the Woods

"Engaging... a must read for researchers, citizen scientists, and visitors to Yellowstone, where the story of the wolves continues to evolve." 
—Science
 
"As in a great novel, we are swept along in a multi-generational saga involving matters of character, courtship, and shifting social relations."
—Tom Kizzia, author of Pilgrim's Wilderness
 
"Heartbreaking front-line coverage of our war on the wild.... Blakeslee hauntingly gives the victims faces, families, and stories. A quietly angry, aching, important book."
—Charles Foster, author of Being a Beast
 
"A compelling environmental drama of the reintroduction of wolves to the Rockies, as clear-sighted on human politics as it is on wolf politics."
—Neil Ansell, author of Deep Country
 
"The Game of Thrones story of modern western wolves, [unfolding] in just as riveting a fashion. It is an absolutely mesmerizing read."
—Dan Flores, author of Coyote America: A Natural and Supernatural History
 
"American Wolf gives us true profiles of wolf lives lived in their actual families. And when humans get involved, the trajectory of their lives forever changes."
—Carl Safina, author of Beyond Words: What Animals Think and Feel
 
"Written with heart, but not sentimentality, American Wolf is nothing less than Shakespearean tragedy played out against the backdrop of our troubled relationship with nature."
—J.B. MacKinnon, author of The Once and Future World
"[American Wolf] is about the compatibility and clash between man and environment, heritage and the future, politics and practice, and seemingly countless nuances that demonstrate the complexity of the West."
—Idaho Statesman
"O-Six is the definition of an alpha—strong, cunning, and a protector through and through. Her life in the wild is constantly challenged by other wolves, cattle ranchers, and hunters. It's a "cultural clash" that will leave you on the edge of your chair."
—Departures
"[A] rich, poignant story of wolf recovery in Yellowstone and its impacts on the surrounding countryside and communities."  
—National Parks Traveler
"Blakeslee crafts a compelling narrative that allows him to explore in a profound and intimate way the cultural, political, social and economic factors that keep the presence of wolves in the West controversial."
—International Wolf