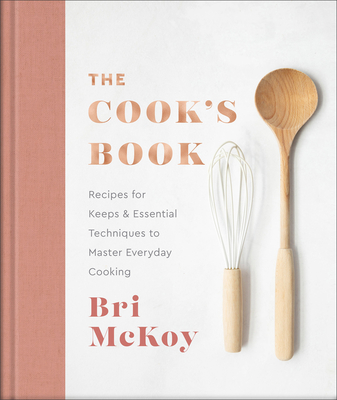 The Cook's Book: Recipes for Keeps & Essential Techniques to Master Everyday Cooking
Publication Date:
August 29th, 2023
Publisher:
Fleming H. Revell Company
Usually Ships in 1 to 5 Days
Description
"An excellent resource that budding home cooks will turn to time and again."--Publishers Weekly Starred Review
***
Helping Everyday Home Cooks Master the Art of Cooking with Joy and Confidence
"You don't need any other book. Call off the search. Everything you ever wanted to know about cooking and being generally delighted in the kitchen is inside the pages of The Cook's Book."--Jen Hatmaker, New York Times bestselling author of Feed These People and host of the For the Love
"Y'all, STOP THE PRESSES--OUR COOKBOOK IS HERE. The Cook's Book is delightfully unique, full of delicious recipes you expect from a cookbook but with a comprehensive cooking course built right in."--Kendra Adachi, author of the New York Times bestsellers The Lazy Genius Kitchen and The Lazy Genius Way
***
Tired of food blogs and cookbooks that look impressive but lack practicality? Find yourself Googling to figure things out while cooking? Could you pull a meal together with only the ingredients you have on hand?
Introducing The Cook's Book, your guide to mastering cooking with joy and confidence.
More than just a collection of recipes, The Cook's Book is your ultimate kitchen companion. Filled with engaging lessons, techniques, and strategies--as well as delicious go-to recipes, food and wine pairings, and a beginner bar cart guide--this resource teaches you what you need to know to create and share great food with the people you love every day.
Perfect for graduates, newlyweds, new homeowners, and new parents, The Cook's Book is everything you wish your mother had taught you (if she hadn't also been brought up in a time of pricey packaged convenience foods and too-busy schedules). Strap on an apron and get ready for flavorful meals with fabulous company.
***
Learn how to:
- add flavor to any dish
- stock your pantry
- care for your knives
- make sauces and soups from scratch
- cook flavorful, juicy meats
- pick the perfect side dish
- stock a basic bar cart
Plus . . .
- go-to recipes
- must-have kitchen tools
- flavor layering techniques
- delicious food and wine pairings
- sensible solutions to common problems.