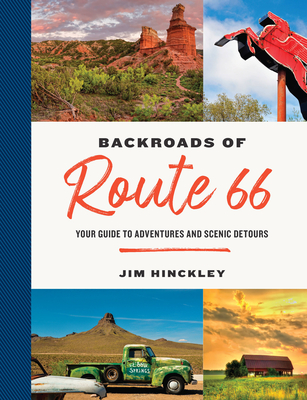 The Backroads of Route 66: Your Guide to Adventures and Scenic Detours
Publication Date:
September 13th, 2022
Usually Ships in 1 to 5 Days
Description
This wonderfully illustrated, up-to-date guide to the natural, cultural, and historical gems hidden just off the legendary Route 66 outlines 30 trips for curious travelers.
Route 66 is arguably the world's most famous highway (more than 60% of Route 66 adventurers are from overseas!)—its motels, diners, and roadside attractions comprising a time capsule of America's love affair with the automobile. While many of the road's iconic attractions have disappeared with time (along with large stretches of the road itself), others are as enduring as ever.
In this completely revised and updated version of The Backroads of Route 66, author and Route 66 expert Jim Hinckley is your guide from the lowlands of the American Plains to the high plateaus of New Mexico and Arizona, from the Great Lakes to the mighty Pacific Ocean, and through major metropolises and remote country towns.
But rather than take the road oft traveled and the sites most photographed, Hinckley encourages you to branch off the Mother Road and discover the hidden gems beyond today's familiar motels and tourist traps—quaint frontier communities that date to westward expansion; the legacy of native cultures; and the awe-inspiring natural wonders that have graced these lands since time immemorial. There to be explored within a few hours' drive from the path of Route 66, discover:
 
Outdoor attractions
Museums
Historic sites
And much more
The thirty trips in The Backroads of Route 66 offer new travel opportunities for you and the thousands of road-trippers who follow this legendary route, looking for something more.