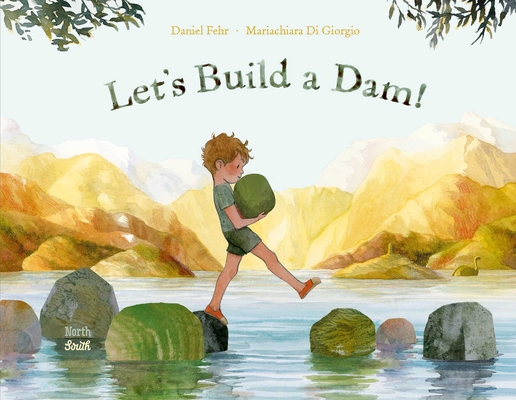 Let's Build a Dam!
Publication Date:
May 23rd, 2023
Publisher:
NorthSouth Books
Usually Ships in 1 to 5 Days
Description
Hilarity ensues when siblings set out to build a simple dam in this charming picture book for young children.
Siblings May, Lily, and Noah build a dam. Stone by stone, their dam grows higher and higher, until their creation attracts the attention of fishermen, pirates, and even the King and his fleet. The sky's the limit, until Noah wants his stone back . . . 
Each page builds upon the previous scene as the children's imaginations also grow. Children will delight in pointing out the changing details on each page as they laugh along to this picture book about the boundlessness of imagination and sibling friendship.
Praise for Let's Build a Dam!
"a lovely book to share"
— Ann Bradley
"Misty watercolors evoke the intangible air of dreams in this story about the magic of imagination. At the narrow stretch where a river feeds into a lake, three siblings set out to build a dam. As they work, they are joined by the Royal Navy, pirates, and a caricature of King George III himself; in the water beyond, epic sea battles rage. Though the dam is destroyed, the children return home buoyed by the day's adventures—if a little damp."
— Foreword Reviews, starred review
"Powerfully demonstrates the wonders imagination can dream up…and how quickly reality can crash back in."
— Kirkus Reviews
"a lovely book to share"
— Ann Bradley
"This very charming story will appeal to imaginative readers everywhere."
— Youth Services Book Review
"Di Giorgio's lush, dreamy illustrations — coupled with Fehr's warm, inventive storyline — make this a really enjoyable summertime read. It would be especially good to pull out during a case of the "I'm BORED!"s, not only to spark some ideas but also to remind kids (and perhaps their grownups) that you don't need things to have a good time as long as you have the outdoor world and your imagination."
— Sarah Miller