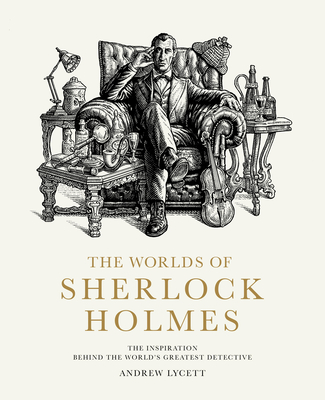 The Worlds of Sherlock Holmes: The Inspiration Behind the World's Greatest Detective
Publication Date:
October 10th, 2023
Publisher:
Frances Lincoln
Usually Ships in 1 to 5 Days
Description
Questing was Sherlock Holmes's business. He famously adopted the latest forensic techniques, channelled the Victorian passion for enquiry, kept abreast of the key scientific breakthroughs of his age, and conducted his investigations in an enigmatic and stylised manner. And the brains behind it all was, of course, the great Arthur Conan Doyle.
In this deep dive into the contemporary world of Holmes and Conan Doyle, biographer Andrew Lycett explores all that encompasses the world of the great detective – tracing the infamous character's own interests, personality and mythologised biography alongside that of his creator's.
From the Victorian crazes for detection and séance, to contemporary developments in science and psychology, Lycett weaves together everything that inspired Conan Doyle in creating the world's most famous detective and one of fiction's most enduring, enigmatic and recognisable characters.
Praise for The Worlds of Sherlock Holmes: The Inspiration Behind the World's Greatest Detective
"Besides writing the best biography of Arthur Conan Doyle, Andrew Lycett has now merged the virtues of annotated editions, biographies, and walking tours into a lively, engaging narrative bursting with rich detail and gorgeous color illustrations. Ranging from Conan Doyle's inspirations through Enola Holmes 2, it will immediately become the go-to gift book for fans of Sherlock Holmes or other Victorian literature."
 —MICHAEL SIMS, author of Arthur and Sherlock and editor of The Penguin Book of Murder Mysteries
"I've seen lots of books about everyone's favorite consulting detective ...none more elegant or beautifully produced. A profusion of illustrations, as well as text by Lycett, one of Arthur Conan Doyle's best biographers, will brighten Christmas morning for any would-be Baker Street Irregular."—Michael Dirda, The Washington Post
We can't say enough good things about it. It is a piece of art. It is lovely to hold, lovely to flip through. It is so well-written. The flow as Andrew takes us through the evolution of Sherlock Holmes in the world and what the world contributed to Sherlock Holmes... This is one of those books that every Sherlockian needs to own. -- Scott Monty, I Hear of Sherlock Everywhere podcast—Scott Monty, I Hear of Sherlock Everywhere podcast
"Lycett provides an impressive and colorfully-illustrated discussion of how Holmes was created, and why he continues to fascinate each new generation of readers."
 —Peter Blau, Scuttlebuts
"This companion embarks on a lively tour of the politics, cultural and social circumstances of Holmes's era [and] takes us inside Holmes's mind, a mix of imagination to read a criminal's intentions with a scientific approach to solving riddles…We discover what lies behind that famous image, the man who created him and the world into which both were born and shaped by."
 —Dan Carrier, Camden New Journal