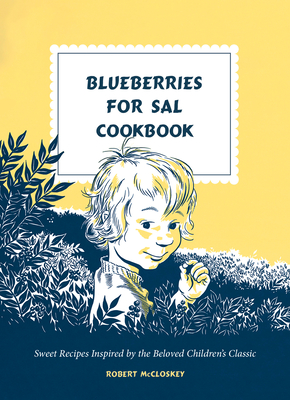 Blueberries for Sal Cookbook: Sweet Recipes Inspired by the Beloved Children's Classic
Publication Date:
June 6th, 2023
Publisher:
Clarkson Potter
Usually Ships in 1 to 5 Days
Description
NATIONAL BESTSELLER • Enjoy 30 sweet blueberry recipes in this beautifully illustrated official cookbook based on the beloved children's classic Blueberries for Sal.
With over three million copies sold since its publication in 1948, Robert McCloskey's Blueberries for Sal has established its place in the hearts of readers worldwide. Now, for the first time, you can share Little Sal's love of blueberries with this charming cookbook of thirty family-friendly, blueberry-based recipes to enjoy, including:
• Classics: Blueberry Pie and Blueberry Muffins
• Breakfast Treats: Berry Blue Smoothie and Blueberry Coffee Cake with Streusel
• Delicious Desserts: Moose Tracks Blondies and Blueberry-Coconut Cupcakes
Featuring the author's original illustrations as well as new drawings inspired by the iconic images in the book, Blueberries for Sal Cookbook invites you to imagine all the ways Little Sal enjoyed her berries after that memorable day on Blueberry Hill.