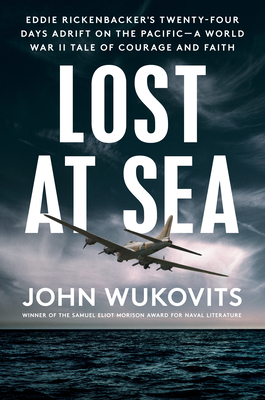 Lost at Sea: Eddie Rickenbacker's Twenty-Four Days Adrift on the Pacific--A World War II Tale of Courage and Faith
Publication Date:
May 16th, 2023
Publisher:
Dutton Caliber
Usually Ships in 1 to 5 Days
Description
The forgotten story of American war hero Eddie Rickenbacker's crash landing in the Pacific during World War II, and his incredible twenty-three-day crusade to keep his crew alive
In the darkest days of World War II, an unlikely civilian was sent to deliver a letter from Washington to General MacArthur in New Guinea. Eddie Rickenbacker was a genuine icon, a pioneer of aviation, the greatest fighter pilot of the First World War, recipient of the Medal of Honor, who'd retired to become a renowned race car driver. Now in his fifties, one of the most admired men in America, Rickenbacker was again serving his nation, riding high above the Pacific as a passenger aboard a B-17.
 
But soon the plane was forced to crash-land on the ocean surface, leaving its eight occupants adrift in tiny rubber life rafts, hundreds of miles from the nearest speck of land. Lacking fresh water and with precious little food, the men faced days of unrelenting sun, followed by nights shivering in the cold, fighting pangs of hunger, exhaustion, and thirst, all the while circled by sharks. Each prayed to see a friendly vessel on the horizon, and dreaded the arrival of a Japanese warship. Meanwhile, as the US Navy scoured the South Pacific, American radio and newspapers back home parsed every detail of Rickenbacker's disappearance, and an adoring public awaited news of his fate.
Using survivors' accounts and contemporary records, award-winning author John Wukovits brings to life a gripping story of survival, leadership, and faith in a time of crisis.
Praise for Lost at Sea: Eddie Rickenbacker's Twenty-Four Days Adrift on the Pacific--A World War II Tale of Courage and Faith
"This well-referenced and illustrated, exciting and illuminating work uses the character of a bona fide hero as a key to unlock the mystery of what makes some individuals ascend to greatness in the face of adversity."
—Booklist

"Wukovits delivers a detailed account of their suffering from maddening thirst, starvation, burning sun during the day, bitter-cold, wet nights, and painful injuries from the crash.... [The] author shows how Rickenbacker refused to lose hope, encouraging and often bullying the others to maintain morale.... A gripping survival story."
—Kirkus

"Historian Wukovits delivers an immersive account of wartime disaster and survival.... Drawing largely from survivors' accounts, Wukovits viscerally describes their ordeal and conveys the miraculous nature of the outcome. Readers will be gripped."
—Publishers Weekly
"Lost at Sea is a book for every aviation enthusiast… It will certainly keep the reader engrossed and captivated."
—Litercurious
"In Lost at Sea, acclaimed historian John Wukovits has crafted a harrowing tale of survival against all odds as eight men, including famed aviator Eddie Rickenbacker, battle for their lives in rubber rafts in the vast Pacific Ocean during World War II. In his adept hands, readers will feel the hunger, thirst, and fear that consumed them as well as relish in the courage and faith that helped them persevere as the days turned to weeks beneath a blistering sun. This is a gripping thriller—and without a doubt, one of the best books I have read in years."
—James M. Scott, Pulitzer Prize finalist and author of Black Snow and Rampage
 
"John Wukovits is at his best telling one of the great survival stories of World War II, not only from Eddie Rickenbacker's viewpoint as bona fide legend, but also from the perspectives of the men who shared the ordeal with him."
—Walter R. Borneman, national bestselling author of The Admirals and MacArthur at War
 
"Lost at Sea is a story of fate and faith, luck and skill, and triumph over tragedy. John Wukovits is a master at blending historical fact with colorful characters whom readers can pull for, following their shared horrors of starvation, thirst, and soul-searching despair. This is captivating reading from start to finish."
—Stephen L. Moore, author of Patton's Payback
 
"With fascinating, newly-uncovered details and a captivating writing style, John Wukovits gives us an inspiring tale of men overcoming seemingly impossible odds, as well as a powerful account of a bit of true human history amid the vastness of a world war."
—Don Keith, author of Torpedo Run
 
"This is an utterly absorbing book which will keep you up late into the night... Lost at Sea is a marvel of storytelling, a masterpiece of evocation drawn from the kind of trial on the unforgiving sea which few men survive."
—David and Margaret White, authors of Wings of War
 
"Americans holds their collective breath: Champion race car driver and legendary flying ace Eddie Rickenbacker is reported missing after his airplane goes down somewhere in the Pacific in the early days of World War II. Will the popular Medal of Honor winner cheat death again? Nail-biting true adventure at its best by John Wukovits, Lost at Sea is impossible to put down."
—Bruce Henderson, New York Times bestselling author of Sons and Soldiers