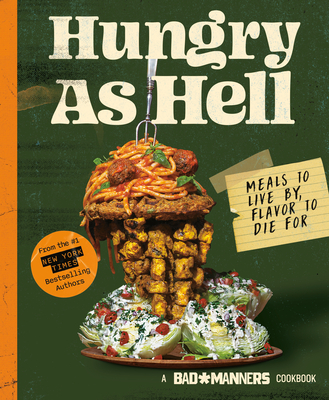 Bad Manners: Hungry as Hell: Meals to Live by, Flavor to Die For: A Vegan Cookbook
Publication Date:
October 31st, 2023
Usually Ships in 1 to 5 Days
Description
NATIONAL BESTSELLER • The duo behind Bad Manners gives you a home-cooking reboot with this fresh collection of more than 100 great-tasting, good-for-you plant-based recipes for any occasion.
It's a hell of a lot easier these days to eat your vegetables, but with plant-based convenience foods and infinite takeout options within arm's reach, we know it's also easy to fall back into the same bad habits that convinced you not to cook in the first place. If your plans for preparing homemade, healthy-ish food are going up in smoke because you're too tired, busy, or hungry, we at Bad Manners are here to the rescue. You can cook, we can help.
Getting back in the kitchen doesn't mean making boring, bland food. These craveable and practical recipes taste so damn good that you'll forget that you ever found cooking a chore. You'll find weeknight-friendly meals, such as Chickpea and Tahini Soup with Orzo, Breakfast Fried Rice, and Quinoa Basil Fritters, that take less than 45 minutes to prepare—from chop to chomp. Sure-to-impress weekend dishes including Pumpkin Lasagna Rolls, Eggplant Polpetti, and Summer Squash–Stuffed Flatbreads teach you the skills you need to be a confident home cook, no matter the recipe. With dazzling photos and illustrations, creative ideas for turning leftovers into meals you're actually excited to eat, and Field Notes that offer life-changing tips, this book belongs in every kitchen. You'll learn to whip up a salad that everyone will want to eat, practice the optimal way to stack your sandwich fixings, and discover the secrets to great beans and craveable greens. Hungry yet?
Whether you need dinner on the table ASAP or have the luxury of time in the kitchen, Bad Manners is here to make cooking your default option in no time.