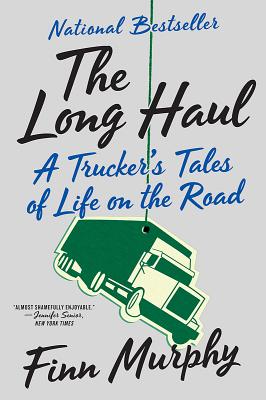 The Long Haul: A Trucker's Tales of Life on the Road
Publication Date:
June 5th, 2018
Publisher:
W. W. Norton & Company
Usually Ships in 1 to 5 Days
This memoir of a life spent driving trucks full of strangers' personal belongings across the country is the book I didn't know I needed. Finn Murphy writes engaging slice-of-life stories about his time as a long-haul truck driver while also showing the changes in the trucking industry and American life in the decades he's spent pulling thousands of pounds up mountains, through storms, and across plains. Trucking is a solitary life, but Murphy grabbed me like a friend and took me with him on his journey.
June 2017 Indie Next List
A thoroughly enjoyable memoir of the romance and reality of a life on the road—specifically, a long-haul mover, or 'bedbugger,' in the terms of the trade—that manages to be as wise about class and culture in modern America as any academic treatise.
Summer 2018 Reading Group Indie Next List
Description
"There's nothing semi about Finn Murphy's trucking tales of The Long Haul."—Sloane Crosley, Vanity Fair
More than thirty years ago, Finn Murphy dropped out of college to become a long-haul trucker. Since then he's covered more than a million miles as a mover, packing, loading, hauling people's belongings all over America. In The Long Haul, Murphy recounts with wit, candor, and charm the America he has seen change over the decades and the poignant, funny, and often haunting stories of the people he encounters on the job.
Praise for The Long Haul: A Trucker's Tales of Life on the Road
Like a Mark Twain behind the wheel, [Murphy] takes us on the road coast to coast and city to city with a voice that's honest and direct and sometimes even poetic.
— Bob Ryan - Boston Globe
Rich [and] insightful.… A well-written story that rarely slows down.
— Nathan Deuel - Los Angeles Times
It's a hoot to ride along with Murphy.
— Irene Wanner - Seattle Times
The Long Haul is funny and sad and wise, and it shows us the lives of people we depend on.
— Matthew B. Crawford, author of Shop Class as Soulcraft
Exquisite.… Murphy can cross class boundaries as smoothly as changing lanes on the highway.… Readers even passingly familiar with the burgeoning literary genre we might call hillbilly elegiacs… will find Murphy's more nuanced perspective refreshing.
— Meghan Daum - New York Times Book Review
The Long Haul delivers because it is a survey of a culture fused to a working man's memoir—and Murphy, smartly, avoids sentiment and lazy comparisons.
— Jeffery Gleaves - Paris Review
Like priests, movers shepherd us through life's transitions; like cowboys, truckers drive the roads we'll never know. Both see America in ways the rest of us don't. In The Long Haul, Murphy… bring[s] us into his semi-mythic world.
— Joshua Rothman - The New Yorker
An adventure story and… a peek into an occupation whose practitioners we see rolling down the highway.
— Jim Higgins - Milwaukee Journal Sentinel
The Long Haul beguil[es] readers with wit, wisdom and observations born from decades in transit.
— Jason Blevins - Denver Post
Finn Murphy… bring[s] readers along for a rollicking ride through a trucker's world and [provides] an insider's eye, pairing it with an involving series of encounters.
— Midwest Book Review