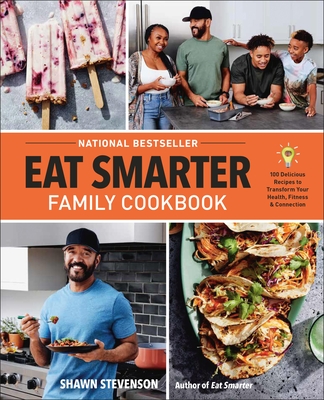 Eat Smarter Family Cookbook: 100 Delicious Recipes to Transform Your Health, Happiness, and Connection
Publication Date:
October 10th, 2023
Publisher:
Little, Brown Spark
Usually Ships in 1 to 5 Days
Description
Boost your metabolism, up-level your energy, and start living a happier life with the bestselling companion cookbook to Shawn Stevenson's Eat Smarter, featuring 100 easy, family-friendly recipes
Starting a new health journey may seem daunting, but you don't have to do it alone. In fact, not doing it alone is a secret to longevity and health that has been largely overlooked… until now! The latest research shows that simple changes to our environment, and eating more often with people we care about, have a tremendous impact on our food choices, metabolic health, mental health, and so much more.
As health expert and #1-ranked podcast host of "The Model Health Show" Shawn Stevenson shows us, nutrition goes beyond preparing and eating healthy foods, and can be a delicious, transformative experience for all. In Eat Smarter Family Cookbook, Stevenson expands on his bestselling Eat Smarter with 100 delectable recipes with radically upgraded ingredients that are fit for the whole family. Inside, you'll find recipes that offer a healthy and mouthwatering twist to old classics for any diet, including:
Sweet Potato Protein Pancakes
Supreme Salmon Burgers
Avocado Fries
And more
Each easy-to-prepare recipe is designed with nutrient-dense ingredients that will transform your body from the inside out. Complete with sample meal plans, mind-blowing food facts, and tips to transform your family's kitchen, Eat Smarter Family Cookbook has all the recipes you'll need to upgrade your food choices and, ultimately, transform your health and the health of your entire family.