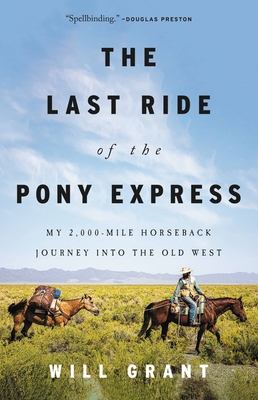 The Last Ride of the Pony Express: My 2,000-mile Horseback Journey into the Old West
Publication Date:
June 6th, 2023
Publisher:
Little, Brown and Company
Usually Ships in 1 to 5 Days
Description
USA Today Bestseller!
"Spellbinding" (Douglas Preston) and "completely fascinating" (Elizabeth Letts), cowboy and journalist Will Grant takes us on an epic and authentic horseback journey into the modern West on an adventure of a lifetime.  The Last Ride of the Pony Express boldly illuminates both our mythic fascination with the Pony Express, and how its spirit continues to this day. ​ 
 
The Pony Express was a fast-horse frontier mail service that spanned the American West— the high, dry, and undeniably lonesome part of North America. While in operation during the 1860s, it carried letter mail on a blistering ten-day schedule between Missouri and San Francisco, running through a vast and mostly uninhabited wilderness. It covered a massive distance—akin to running horses between Madrid and Moscow— and to this day, the Pony Express is irrefutably the greatest display of American horsemanship to ever color the pages of a history book.
 
Though the Pony Express has enjoyed a lot of traction over the years, among the authors that have attempted to encapsulate it, none have ever ridden it themselves. While most scholars would look for answers inside a library, Will Grant looks for his between the ears of a horse. Inspired by the likes of Mark Twain, Sir Richard Burton, and Horace Greeley, all of whom traveled throughout the developing West, Will Grant returned to his roots: he would ride the trail himself with his two horses, Chicken Fry and Badger, from one end to the other.
Will Grant captures the spirit of the West in a way that few writers have. Along with rich encounters with the ranchers, farmers, historians, and businessmen who populate the trail, his exploits on horseback offer an intimate portrait of how the West has evolved from the rough and tumble 19th century to the present, and it's written with such intimacy that you'll feel as though you're riding right alongside of him. The result is an extraordinary portrait of the treacherous and, at times, thrilling landscape of the known and unknown American West, and the people who populate it.  
 
The Last Ride of the Pony Express is a tale of adventure by a horseman who defies most modern conveniences, and is an unforgettable narrative that will forever change how you see the West, the Pony Express, and America as a whole.
Praise for The Last Ride of the Pony Express: My 2,000-mile Horseback Journey into the Old West
"Will Grant, a horse trainer, veteran cowboy and writer for Outside magazine, shows himself to be a gifted storyteller and reporter. His affection for the landscape and the creatures that inhabit it is sincere and oftentimes tender. Grant brings readers so close to the scene that they may feel the light breeze blowing through the holes in the soles of his boots."—New York Times
"The Last Ride of the PonyExpress by Will Grant is a spellbinding account of the author's solo 2,000 mile horseback journey retracing the route of the old Pony Express. Beautifully and vividly written, it weaves adventure and hardship with history and a deep appreciation for the land and its people. Many books have been written about the Pony Express by people who immersed themselves libraries and archives, but this book does the opposite, taking the reader into the vastness of our landscape on an unforgettable journey across the American West. Anyone interested in western history, horses, and adventure travel will love this book! Highly, highly recommended."
 —Douglas Preston, #1 New York Times bestselling author of Cities of Gold and The Lost City of the Monkey God
"The Last Ride of the Pony Express is immersive, moving, and beautifully rendered. It's so much more than an adventure on horseback. It's, at heart, a love letter: to the landscape, and to the people who inhabit it. An absorbing tale of the American West, and a remarkable debut." —Kirk Wallace Johnson, author of The Fisherman and the Dragon and The Feather Thief
"In The Last Ride of the Pony Express, Will Grant has braided one of the finest tales in the storied history of the American West, a grand adventure in which the hoofbeats laid down by a writer whose prose is as controlled, as rhythmic, and as beautiful as his horsemanship come together to form a hymn to the land itself. A gorgeous and compelling ride."—Kevin Fedarko, author of the New York Times bestselling The Emerald Mile
"Will Grant takes readers on a rollicking ride across the most famous horse trail in America in The Last Ride of the Pony Express. Navigating present-day highways and byways as well as history, the author and his steeds travel through a multi-dimensional kaleidoscope, introducing us to two-thousand-miles' worth of colorful characters, both dead and very much alive. Like Grant, we may know more or less where he's headed, but the fun is all in getting there. A unique and enjoyable read about today's America and its storied past. Highly recommended, whatever you know or think you know about the West, old or otherwise."—Jim DeFelice, co-author of the New York Times bestselling American Sniper
"The Pony Express is something every American school-child learns about, but which we rarely see portrayed in its full, sweaty, bloody reality. By embarking on this adventure, Grant blows the dust right off this chapter in history and leaves it fresh. But I was delighted to discover that this book is as much about the present as it is about the past. The West that Grant shows us from "between the ears of a horse" is resilient and precarious, highly mechanized and still surprisingly wild. It's a journey well worth taking."—Robert Moor, bestselling author of On Trails: An Exploration
"The Pony Express was in existence for less than two years, yet what a terrific pull it's had on our national imagination. Will Grant, a horseman through and through, is just the right writer to capture its soul. In prose that's appropriately lean and raw, he's written a seamless and unforgettable blend of history and horses that pays homage to those brave, Mercury-like messengers of yore."—Hampton Sides, NYT bestselling author of Blood and Thunder
"The Last Ride of the Pony Express is exactly my favorite kind of book, a travel story, chock full of history with a genial and completely fascinating tour guide. Will Grant writes about horses with a special insight, compassion and good humor that let me know I was on a ride with a real horseman.  I loved riding across the West with Grant and his two horses, as he introduced me to people and places most of us will never visit, with verve, adventure, and unfailing good nature that shows us the best of America's less travelled by-ways."—Elizabeth Letts #1 New York Times bestselling author of The Ride of Her Life
"reads like a labor of love, one of those first books whose purity and sense of wonder you feel with every page…The Last Ride of the Pony Express is a paean to the horse and the American West, both of which Grant writes about with beauty and precision and a spareness as dry and sharp as a Nevada summer afternoon….y the time he and Badger and Chicken Fry clip-clop into Sacramento you grasp the improbability of the Pony Express — which carried some 39,500 pieces of mail in its year and a half of operation — and the place all those horses and men tried to bridge. And by the time Grant makes it home to New Mexico, having worn through one pair of boots and 12 pairs of socks, but not, pointedly, his mounts, I knew why horses are counted in head, not heads, and I could smell the sagebrush and hear the wind long after I stopped reading."—The Washington Post