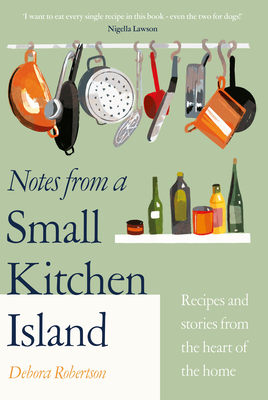 Notes from a Small Kitchen Island: 'I want to eat every single recipe in this book' Nigella Lawson
Publication Date:
May 23rd, 2023
Publisher:
Michael Joseph
Usually Ships in 1 to 5 Days
Description
Recipes and stories that celebrate the joys and quirks of domestic life, written with candid warmth and humor
"I am so greedily impatient for this book. I want to read it. I want to cook from it."Nigella Lawson
In Notes from a Small Kitchen Island, food writer Debora Robertson presents a charming miscellany of recipes that celebrate the joys of home and the memories we make in it, collected over the years as she cooked her way through the various kitchens that came in and out of her life.
From nostalgic recipes remembered from childhood, to accidentally Turkish suppers created with ingredients from her local Hackney high street; from feasts improvised in her French holiday cottage to food cooked for the best of friends, Debora's recipes encapsulate the comforts and adventures to be found in the everyday. You'll also learn how to throw a party without losing your mind and what food writers really eat for lunch (mostly toast!).
A chronicle of domestic life, this book comprises decades of fieldwork in the author's natural territory: her kitchen.
Includes metric measures.
Praise for Notes from a Small Kitchen Island: 'I want to eat every single recipe in this book' Nigella Lawson
'Wonderful. Charmingly miscellaneous in structure, the book is jam- packed with useful tips . . . It celebrates the joy of home cooking, and shows how small tweaks can make a dish stand out' Telegraph
'I want to eat every single recipe in this book - even the two for dogs!' Nigella Lawson
'I am so greedily impatient for this book. I want to read it. I want to cook from it.' Nigella Lawson
'Nobody else writing about food in this country has a voice like Debora Robertson's. She is sharp, witty and warm.' Diana Henry
Debora's food knowledge is exceptional. Her understanding of the food world, writers, cookbooks, chefs and producers, is encyclopaedic. On top of that she's genuinely lovely!Tom Kerridge