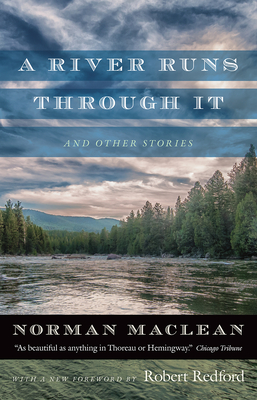 A River Runs through It and Other Stories
Publication Date:
May 16th, 2017
Publisher:
University of Chicago Press
Usually Ships in 1 to 5 Days
Description
When Norman Maclean sent the manuscript of A River Runs through It and Other Stories to New York publishers, he received a slew of rejections. One editor, so the story goes, replied, "it has trees in it." Forty years later, the title novella is recognized as one of the great American tales of the twentieth century, and Maclean as one of the most beloved writers of our time. The finely distilled product of a long life of often surprising rapture—for fly-fishing, for the woods, for the interlocked beauty of life and art—A River Runs through It has established itself as a classic of the American West. This new edition will introduce a fresh audience to Maclean's beautiful prose and understated emotional insights.
Elegantly redesigned, A River Runs through It includes a new foreword by Robert Redford, director of the Academy Award-winning 1992 film adaptation of River. Based on Maclean's own experiences as a young man, the book's two novellas and short story are set in the small towns and mountains of western Montana. It is a world populated with drunks, loggers, card sharks, and whores, but also one rich in the pleasures of fly-fishing, logging, cribbage, and family. By turns raunchy and elegiac, these superb tales express, in Maclean's own words, "a little of the love I have for the earth as it goes by."
Praise for A River Runs through It and Other Stories
"If there is a smarter, more affecting meditation on the themes of fathers and sons, brothers, the pleasures of the natural world, love, loss, and the haunting power of water, I have yet to come across it. As it has for many others, A River Runs through It became for me a kind of central text, equal parts fishing primer, literary masterwork, and spiritual guide. . . . It remains one of my most beloved books."
— Jon Gluck
"Maclean's book—acerbic, laconic, deadpan—rings out of a rich American tradition that includes Mark Twain, Kin Hubbard, Richard Bissell, Jean Shepherd, and Nelson Algren."
— James R. Frakes
"It is an enchanted tale."
— Roger Sale
"The title novella is the prize. . . . Something unique and marvelous: a story that is at once an evocation of nature's miracles and realities and a probing of human mysteries. Wise, witty, wonderful, Maclean spins his tales, casts his flies, fishes the rivers and the woods for what he remembers from his youth in the Rockies."
— Barbara Bannon
"A masterpiece. . . . This is more than stunning fiction: It is a lyric record of a time and a life, shining with Maclean's special gift for calling the reader's attention to arts of all kinds—the arts that work in nature, in personality, in social intercourse, in fly-fishing."
— Kenneth M. Pierce
"Maclean's book is surely destined to be one of those rare memoirs that can be called a masterpiece. . . . Earthy, whimsical, authoritative, wise; it touches the heart without blushing and traces lasting images for the eye. . . . This book is a gem."
— Nick Lyons
"[Maclean] would go to his grave secure in the knowledge that anyone who'd fished with a fly in the Rockies and read his novella on the how and why of it believed it to be the best such manual on the art ever written—a remarkable feat for a piece of prose that also stands as a masterwork in the art of tragic writing."
— Philip Connors
"Altogether beautiful in the power of its feeling. . . . As beautiful as anything in Thoreau or Hemingway."
— Alfred Kazin
"Ostensibly a 'fishing story,' A River Runs through It is really an autobiographical elegy that captivates readers who have never held a fly rod in their hand. In it the art of casting a fly becomes a ritual of grace, a metaphor for man's attempt to move into nature."
— Andrew Rosenheim
"In the years since I first read this collection's title story, I've never been able to think about fly-fishing without a genuine sense of reverence. . . . Maclean dedicates long, languid passages to the finer points of casting in the 'great trout rivers' of western Montana, which manage to be both technical and transcendent. . . . The beauty of the story lies in its specificity—the summer of 1937 on the Big Blackfoot River—against the sweep of religion, the primeval forces of geology, and the pure ache of loving someone whom you struggle to understand."
— The Atlantic