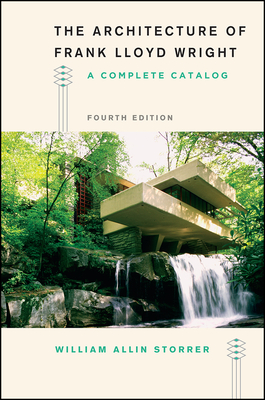 The Architecture of Frank Lloyd Wright, Fourth Edition: A Complete Catalog
Publication Date:
July 2nd, 2017
Publisher:
University of Chicago Press
Description
From sprawling houses to compact bungalows and from world-famous museums to a still-working gas station, Frank Lloyd Wright's designs can be found in nearly every corner of the country. While the renowned architect passed away more than fifty years ago, researchers and enthusiasts are still uncovering structures that should be attributed to him.
William Allin Storrer is one of the experts leading this charge, and his definitive guide, The Architecture of Frank Lloyd Wright, has long been the resource of choice for anyone interested in Wright.  Thanks to the work of Storrer and his colleagues at the Rediscovering Wright Project, thirty-seven new sites have recently been identified as the work of Wright. Together with more photos, updated and expanded entries, and a new essay on the evolution of Wright's unparalleled architectural style, this new edition is the most comprehensive and authoritative catalog available.
Organized chronologically, the catalog includes full-color photos, location information, and historical and architectural background for all of Wright's extant structures in the United States and abroad, as well as entries for works that have been demolished over the years. A geographic listing makes it easy for traveling Wright fans to find nearby structures and a new key indicates whether a site is open to the public.
Publishing for Wright's sesquicentennial, this new edition will be a trusted companion for anyone embarking on their own journeys through the wonder and genius of Frank Lloyd Wright.
Praise for The Architecture of Frank Lloyd Wright, Fourth Edition: A Complete Catalog
"Storrer is to Wright what Ludwig von Kochel was to Mozart—his definitive, exhaustive cataloger."
— Chicago Tribune