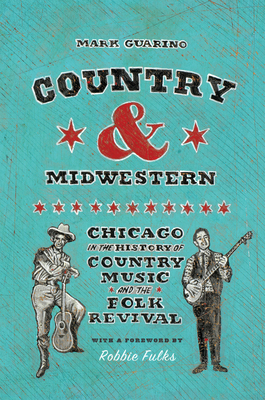 Country and Midwestern: Chicago in the History of Country Music and the Folk Revival
Publication Date:
April 24th, 2023
Publisher:
University of Chicago Press
Usually Ships in 1 to 5 Days
Description
The untold story of Chicago's pivotal role as a country and folk music capital.
 
Chicago is revered as a musical breeding ground, having launched major figures like blues legend Muddy Waters, gospel soul icon Mavis Staples, hip-hop firebrand Kanye West, and the jazz-rock band that shares its name with the city. Far less known, however, is the vital role Chicago played in the rise of prewar country music, the folk revival of the 1950s and 1960s, and the contemporary offspring of those scenes.
 
In Country and Midwestern, veteran journalist Mark Guarino tells the epic century-long story of Chicago's influence on sounds typically associated with regions further south. Drawing on hundreds of interviews and deep archival research, Guarino tells a forgotten story of music, migration, and the ways that rural culture infiltrated urban communities through the radio, the automobile, and the railroad. The Midwest's biggest city was the place where rural transplants could reinvent themselves and shape their music for the new commercial possibilities the city offered. Years before Nashville emerged as the commercial and spiritual center of country music, major record labels made Chicago their home and recorded legendary figures like Bill Monroe, The Carter Family, and Gene Autry. The National Barn Dance—broadcast from the city's South Loop starting in 1924—flourished for two decades as the premier country radio show before the Grand Ole Opry. Guarino chronicles the makeshift niche scenes like "Hillbilly Heaven" in Uptown, where thousands of relocated Southerners created their own hardscrabble honky-tonk subculture, as well as the 1960s rise of the Old Town School of Folk Music, which eventually brought national attention to local luminaries like John Prine and Steve Goodman. The story continues through the end of the twentieth century and into the present day, where artists like Jon Langford, The Handsome Family, and Wilco meld contemporary experimentation with country traditions.
 
 Featuring a foreword from Grammy-nominated singer-songwriter Robbie Fulks and casting a cross-genre net that stretches from Bob Dylan to punk rock, Country and Midwestern rediscovers a history as sprawling as the Windy City—celebrating the creative spirit that modernized American folk idioms, the colorful characters who took them into new terrain, and the music itself, which is still kicking down doors even today.
Praise for Country and Midwestern: Chicago in the History of Country Music and the Folk Revival
"Guarino is a child of Oak Park and has been a writer since high school, his work appearing in a vast and varied number of publications, on stages of theaters in plays he created and now, finally, between covers in a spectacular book dedicated to the musicians of Chicago. . . The book will thrill any music fan but it is something more than that. It gives readers a greater appreciation of the heart and resilience and creativity of this city and its ability to sustain and nurture those talented to persevere."
— Chicago Tribune
"With an epic scope, gorgeous photographs, and useful discographies, this is a vital contribution to the history of American music and required reading for country and folk music fans."
— Booklist starred review
"In his monumental new book Country and Midwestern, music writer Guarino tells a riveting story of the central role that Chicago has played in the development of country and folk music. Every chapter of the book features stories of people, places, and events that have made Chicago home to a growing and vibrant music scene. . . . Country and Midwestern is essential reading for anyone interested in the history of country and folk music." 
— No Depression
"Smartly-written, surprising puzzle piece of Americana: How Chicago, before Nashville, then later with Wilco and other cross-pollinators, was the quiet engine beneath country music for generations."
— Chicago Tribune, on "books for summer 2023"
"Journalist Guarino researched his book Country and Midwestern, for more than ten years. . . . Now he's seeing what a big audience there is for this subject—with author events all over the region."
— NewCity Lit 50 2023
"Guarino's richly textured cultural history is informed by his instinctive sense of the sounds and lyrics that originated in Chicago's small taverns and clubs that were an 'unusual hothouse for creativity,' crucial to the reinvention of country and folk music. Guarino captures the improvisation of balladeers and troubadours, and their music shaped by the century's gyrations of immigration and industrialization. Among his most memorable characters is Studs Terkel's friend Win Stracke, co-founder of the Old Town School of Folk Music, musician, and activist, hounded by Hoover's anti-communist FBI, who observed: 'Chicago has no entrenched cultural tradition like New York, Boston, Philadelphia, and Los Angeles. An idea can grow here without being required to conform.'"
— National Book Review
"With a combination of engaging prose and thorough research, [Country and Midwestern] sheds light on key Chicago contributions to the country and western music genre . . . The book provides compelling accounts of dozens of artists who worked in Chicago, such as bluegrass icon Bill Monroe, radio star (and future Hollywood legend) Gene Autry, folk-music titans John Prine and Steve Goodman, alt-country darlings The Handsome Family and the unheralded country trio The Sundowners, who performed in Chicago bars several nights a week between 1959 and 1989."
— Block Club Chicago
"Chicago is well known for giving the world gospel, electric blues, and house music. In this groundbreaking book, journalist Guarino suggests that as migrants from the rural Midwest and the southern states headed north in the interwar period, the Windy City also played a crucial role in the rise of country and western and folk music. . . . Summing Up: Recommended."
— CHOICE
"While Chicago is known mostly for its history with blues and jazz music, local writer Mark Guarino has tapped into the region's fascinating country roots. . . [taking] great care to detail the importance of the city and suburbs in the history of country music."
— Daily Herald
"Guarino's magnificent Country and Midwestern proves that the Second City was first among equals in the development of American roots music. A ruthless researcher and scintillating storyteller, Guarino provides critical context and moving portraits of the pickers, grinners and pioneers who shaped Chicago's contributions to country and folk. A long overdue but welcome volume that will sit alongside other essential works on the subject, from Bill C. Malone's Country Music USA to David Hadju's Positively Fourth Street."
— Bob Mehr, author of Trouble Boys: The True Story of the Replacements
"Long before Nashville's emergence as the country music capital, Chicago held sway with the nationally-broadcast Barn Dance and a row of honky-tonk venues on Madison Street. Guarino masterfully connects the dots between that star-making era to a contemporary scene devoted to insurgent country. This is a definitive and long-overdue look at a vital, if underappreciated, thread in how so-called hillbilly music evolved and flourished in a seemingly incongruous setting: the hard streets of Chicago."
— Greg Kot, cohost of Sound Opinions and author of I'll Take You There: Mavis Staples, the Staple Singers, and the Music That Shaped the Civil Rights Era
"Those of us who came of age in the vicinity of Chicago understand its importance to country and folk music. The Windy City is home to some of the most prolific artists in the genre: John Prine, Wilco, Mavis Staples, Jon Langford and Robbie Fulks. Chicago gave us the WLS Barn Dance, the Old Town School of Folk Music, the Hyde Park Folk Festival, Flying Fish and Bloodshot Records. Some of us were lucky enough to make our own personal discoveries of the music that sustains us at clubs Gate of Horn, Earl of Old Town, the Hideout, and Whiskey River. Now, finally, author Mark Guarino chronicles the history of country and folk music in Chicago in his necessary and irresistible book Country and Midwestern."
— Tamara Saviano, author of Without Getting Killed or Caught: The Life and Music of Guy Clark
"In this remarkable and thrilling book, Guarino writes that 'Chicago's role in country music and the folk revival has never earned a closer look.' Well, it gets that now in a book exhaustively researched, stylishly written and exciting on every single page. In it I find people I knew well (even my father), many more that I heard play and sing in clubs, and some that are new to me. They are all here, vividly, the rogues, rascals and geniuses who made and keep making our city sing."
— Rick Kogan, Chicago Tribune columnist and 2022 Fuller Award for Lifetime Achievement by the Chicago Literary Hall of Fame