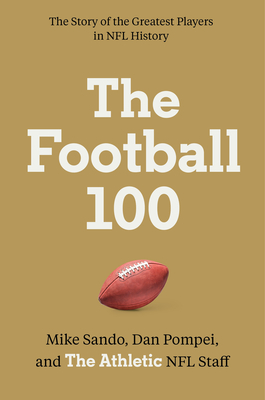 The Football 100
Publication Date:
October 24th, 2023
Publisher:
William Morrow
Usually Ships in 1 to 5 Days
Description
From The Athletic, powerhouse of sports reporting, comes the definitive story of the greatest football players of all time.
It is a question that has bedeviled football fans for generations: Who's the best? Of the more than 25,000 men who have suited up during the NFL's century of existence, which ones stood head and shoulders above all others?
At The Athletic, home to the best newsroom in sports, this question would become a labor of love for dozens of the best football writers on the planet, including Mike Sando and Dan Pompei. Over the course of 100 riveting profiles—each drawing upon unparalleled access and superlative storytelling to offer intimate perspective on what made the greatest players tick—these writers reveal their findings. In the process, they also uncover the history of football.
In the early days of the NFL, the game bore little resemblance to the product we see today. Points were scarce, the forward pass was an exotic strategic curiosity, and most players played all 60 minutes—both sides of the ball. It was on the shoulders of the many greats who starred in the League over the last century that the game of football blossomed. Each profile in The Football 100 uses the vivid narrative storytelling for which The Athletic is known to bring to life extraordinary athletic talents, tactical geniuses who changed the way the game is played, and legendary, outsized personalities. Based on many hundreds of interviews with players, coaches, broadcasters, and others, this is a penetrating look at the greatest players to ever don cleats and pads, as well as a view from the trenches of the harsh realities of a brutal game. 100 photographs throughout the text offer testament to both the glory and the physical toll of football.
Deeply reported, beautifully written, and sure to spark heated debate among football fans of all stripes, The Football 100 sets a new standard for writing about the game.
Praise for The Football 100
"Enlightening. ... An engaging book that NFL fans will love and argue over endlessly." — Kirkus Reviews