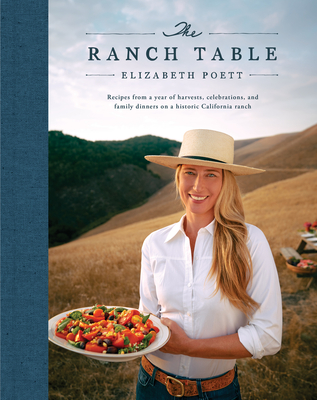 The Ranch Table: Recipes from a Year of Harvests, Celebrations, and Family Dinners on a Historic California Ranch
Publication Date:
October 3rd, 2023
Publisher:
William Morrow Cookbooks
Usually Ships in 1 to 5 Days
Description
USA TODAY BESTSELLER
From the star of Magnolia Network's popular show Ranch to Table—a stunningly beautiful cookbook celebrating a year on a ranch on the California coast, featuring simple yet festive recipes, inspiring menus, and fascinating culture and history.
Elizabeth Poett was raised on Rancho San Julian, a 14,000-acre ranch on Santa Barbara's Central Coast that her family has been working since 1837. Her years are structured around the land's natural rhythms and annual events: celebrations big and small, harvests, and work days that bring her family and community together—and always end with large meals for everyone to share. Elizabeth feeds her friends and family with seasonal ingredients—including vegetables and meat grown and raised on the ranch and fish from California's Central Coast—barbecuing tri-tips, turning local cod into tacos, and using heirloom tomatoes and summery eggplant into delicious, family friendly pastas.
Much like Elizabeth's life, The Ranch Table is also organized around the work and celebrations that take place on the San Julian throughout the year, giving readers and cooks a chance to dive into the ranch's most important workdays, family traditions big and small, and annual celebrations. Each chapter begins with a description of an event or a special day—the work of a branding, the joys of the annual family reunion, the fun of a fall cider press, the quiet beauty of a winter evening spent at the kitchen table—and invites you to join in on the day with both beautiful photos of the ranch today and archival images of its past. In each chapter, Elizabeth also shares the recipes for the dishes she makes for these occasions, including:
Spring, Branding Day
Pistachio Breakfast Bread
Onion-Braised Brisket Sliders
Fudgy Caramel Brownies 
Summer, Fiesta Family Reunion
Beef Empanadas 
Blackberry Margaritas   
Fall, Cider Press Potluck
Turkey Barley Soup 
Spiced Honey Apple Pie with a Ginger Crust  
Winter, New Year's Eve
Chanterelles with Toast
Standing Rib Roast
Green Salad with Winter Fruit and Citrus Dressing
The Ranch Table is an invitation to explore a unique California way of life and enjoy delicious, hearty, seasonal meals, made to be enjoyed with family and friends.
Praise for The Ranch Table: Recipes from a Year of Harvests, Celebrations, and Family Dinners on a Historic California Ranch
"The Ranch Table transports you to the Central Coast of California, where Elizabeth Poett embraces the rhythm of the seasons with fresh, simple meals on her family's historic ranch. Her warm hospitality and down-to-earth approach to cooking are welcome reminders of what truly matters when we invite people around our table." — Joanna Gaines
"Exquisite, inviting…The Ranch Table offers delicious home cooking wrapped up in a romantic view of one family's way of life." — Shelf Awareness