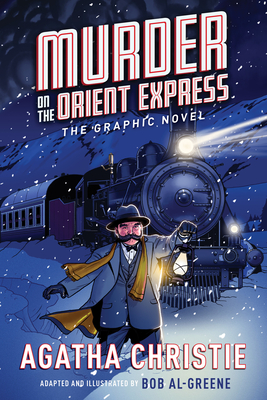 Murder on the Orient Express: The Graphic Novel
Publication Date:
September 12th, 2023
Publisher:
William Morrow Paperbacks
Usually Ships in 1 to 5 Days
Description
Experience Agatha Christie's masterpiece as you've never seen it before with this brand-new graphic novel adaptation—featuring gorgeous full-color illustrations by Bob Al-Greene.
"The murderer is with us—on the train now . . ."
Just after midnight, the famous Orient Express is stopped in its tracks by a snowdrift. By morning, the millionaire Samuel Edward Ratchett lies dead in his compartment, stabbed a dozen times, his door locked from the inside. Without a shred of doubt, one of his fellow passengers is the murderer.
Isolated by the storm, detective Hercule Poirot must find the killer among a dozen of the dead man's enemies, before the murderer decides to strike again.
This beautiful, full-color graphic novel adaptation brings this favorite mystery to life—perfect for longtime fans and new readers alike.
Praise for Murder on the Orient Express: The Graphic Novel
"What more…can a mystery addict desire?" — New York Times
"Need it be said—the little grey cells solve once more the seemingly insoluble. Mrs Christie makes an improbable tale very real, and keeps her readers enthralled and guessing to the end." — Times Literary Supplement (London)
"Nothing short of swell. [Christie] is probably the best suspicion scatterer and diverter in the business." — New York Herald Tribune